Modern Foreign Languages
Welcome
The study of modern foreign languages is an important part of the curriculum at Balcarras. The department is staffed by eleven well-qualified language teachers and is supported by three foreign language assistants.
French Curriculum map
Autumn 1

Autumn 2

Spring 1

Spring 2

Summer 1

Summer 2

Year 7

Year 8

Year 9

Year 10

Family and friendships

Family and friendships / Hobbies

Hobbies / Festivals

Festivals

Home and town

Home and town / Holidays

Year 11

Holidays / School

School / Employment

Employment

Social and global issues

Exam prep

Year 12

Family new trends

Heritage

Family new trends

Heritage

The cyber society

Music

L'auberge espagnole

The cyber society

Music

L'auberge espagnole

Volunteering

Cinema

L'auberge espagnole

Volunteering

Cinema

L'auberge espagnole

Year 13

Political engagement

Diversity

(complete Autumn 1)

Demonstrations Marginalised

Tartuffe

Demonstrations

Marginalised

(start Spring 2)

Tartuffe

Politics and Immigration Criminals

Tartuffe

Exam prep
Spanish Curriculum map
Autumn 1

Autumn 2

Spring 1

Spring 2

Summer 1

Summer 2

Year 8

Year 9

Year 10

Holidays

The present tense

The preterite tense

School

Opinions & adjectives

Near future tense

Family, relationships & new technologies

Family, relationships & new technologies

Free time & sports

The imperfect tense & the perfect tense

Free time continued

Role models

Year 11

Talking about where you live & shopping

Food, mealtimes & fiestas

Trial exam

Employment, including work experience

Social and global issues

Exam prep

Year 12

Cyberspace

Traditional & modern values

Idols

Cyberspace

Traditional & modern values

Idols

Film: María llena eres de gracia

Equal rights

Regional identity

Idols

Trial Exam

Cultural heritage

Completion of outstanding topics

Equal rights

Full mock paper

Introduction to IRP

Film: Diarios de motocicleta

Spanish Civil War

Year 13

Young people today

Immigration

Play: Las Bicicletas son para el verano

Immigration

Revision of film: María llena eres de gracia

Introduction to IRP

Play

Monarchies & Dictatorships

Racism

Play

Trial Exam

Popular movements

Coexistence

Play

Exam prep
Russian curriculum map
Autumn 1

Autumn 2

Spring 1

Spring 2

Summer 1

Summer 2

Year 8

Year 9

Year 10

GCSE THEME 2: Holidays

GCSE THEME 2:Town

GCSE THEME 2: Town

GCSE THEME 3: School

GCSE THEME 3

Year 10 exams

GCSE THEME 4: Future plans

Year 11

GCSE THEME 5: Environment

MOCK EXAMS

GCSE THEME 1: Freetime activities

GCSE THEME 1: Daily routine, family & friends

GCSE Theme 1-5 Recap

Speaking Exams

Exam practice

Year 12

Theme 1: Education

Theme 2: Music

Theme 1: Work

Theme 2 : Circus, dance

Theme 1 : Life of young Russians

Theme 2: festivals, celebrations

Theme 2: Mass Media

Paper 2: Study of film 'Burnt by the Sun'

Essay writing skills

Revision of themes 1 and 2

Yr 12 exams (paper 1, 2 and 3)

Introduction to Year 13: IRP and introduction to USSR

Year 13

Theme 3: Life in Moscow

Theme 4: Perestroika, Glasnost

Theme 3: Environmental issues

Paper 2: Study of text 'Pikovaya Dama'

Yr 13 Mock exam

Theme 3: Social problems in Moscow,

Theme 4: 1991, putsch, collapse of USSR

Themes 1 and 2 : Recap

Exam prep
Language lessons are taught in a purpose built suite of classrooms. Each room is equipped with an interactive whiteboard and all staff use the latest technology and language software in their daily teaching. The department also has a dedicated teaching room with 27 computers, and this has led to the increased use of ICT, particularly web-based, to support language learning.
Key Stage 3
In Year 7 all pupils study French and follow the National Strategy for Language Learning. They learn to speak about themselves, their families and their interests, and how to use the language for real purposes of communication. Year 7 pupils are introduced to the basic language patterns and grammatical features which gives them an understanding of how the language works. They are also taught skills in order to better equip them throughout their language learning experience at Balcarras, such as dictionary skills and pronunciation strategies.
In Year 8 and 9, pupils continue to study French and are also introduced to a second language: either Spanish or Russian. The study of a second language enables pupils to build upon their prior knowledge of French and also to draw on the generic language-learning skills which they have developed in Year 7. We also have other activities going on during the course of the year to encourage pupils in their language learning. Please see photos below.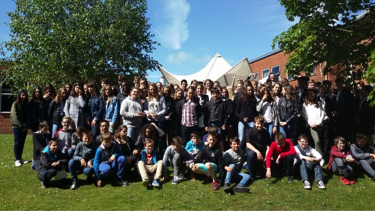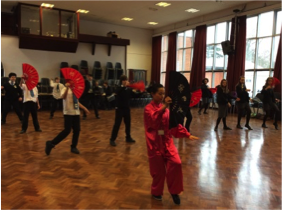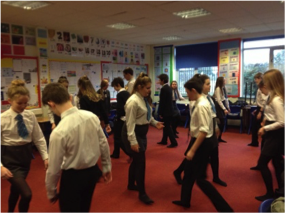 GCSE
At key stage four pupils may choose at least one of these languages to study to GCSE level, but it is not compulsory. However, the vast majority of pupils do opt to take at least one language to GCSE and are advised to do so, particularly if they wish to go on to study at university. Pupils follow the AQA syllabus in French and Spanish and the Edexcel syllabus in Russian. At GCSE level, they are taught to communicate effectively in a variety of situations and to develop and apply their grammatical understanding.
A Level
All three languages are taught to AS and A level and excellent numbers join these courses each year. French and Spanish are taught following the AQA syllabus, while Russian follows the Edexcel syllabus. At this advanced level, pupils are taught to develop their language skills and emphasis is placed on the real world. All AS and A level students spend time working individually with a native language assistant to hone their linguistic abilities and to prepare for the speaking exams. Work experience placements in France and Spain also prove to be popular and have a significant impact on the confidence of the pupils. Residential and/or study visits are also run to all three countries. Our pupils enjoy great success at A level and our department has a strong tradition of students going to study languages at Oxbridge as well as many Russell group universities.
Extracurricular Languages
The department is committed to providing a variety of opportunities for enthusiastic and talented linguists at Balcarras.
Latin Club runs every Thursday lunchtime for pupils in Years 7-9. Here pupils learn Latin in a fun and relaxed way, following the Cambridge Latin Course. The pupils learn the Latin language, its grammatical structures and about life under the Roman Empire. The weekly sessions involve translation exercises, interactive computer activities and games. The pupils who attend this club enjoy it very much and have commented on how it has helped with their understanding of French, English and history.
Pupils in key stages 3 & 4 have the opportunity to attend Mandarin Chinese Club. We are fortunate to have the skills of a highly qualified native speaker, whose lessons the pupils greatly enjoy. The club runs on several different days depending on the level. Intermediates have a double session, as they are working towards taking their GCSE. The advanced group just sat their GCSE last summer and achieved fantastic grades – all of them attaining either A*, A or B, which is a wonderful achievement given that all of the lessons take place out of regular school hours.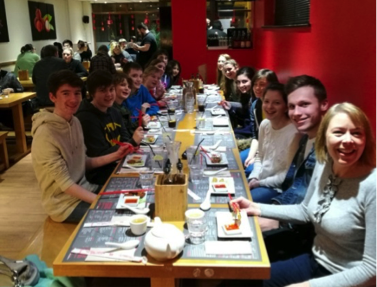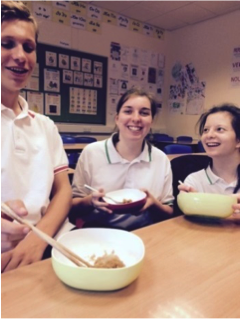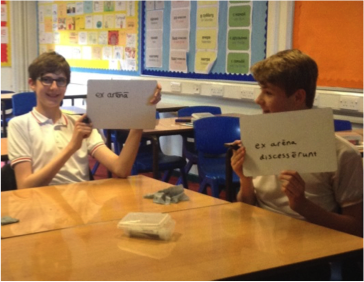 Finally, we also run GCSE Italian after school on Tuesdays to pupils in key stage four. This has been very popular and on average 12-15 students sit the exam every other year. It is a rolling programme and the course takes 2 years to complete. All candidates in Italian last year achieved an A*-C grade and 50% of them achieved an A*!
The extra-curricular languages which we run bring a dynamic element to the MFL department and also help to offer a degree of flexibility to the pupils. Modern foreign languages flourish at Balcarras and we look forward to what the future holds. As languages are a vital part of our ever-changing world, so we look to equip our pupils with the skills which are necessary in order to be successful, in the work environment and also on a social level.
Trips
The department runs a broad range of educational visits for all year groups. These include a four day residential visit to Normandy for Year 7, a seven day visit to Moscow for all students of Russian, and a homestay and study visit to Málaga for sixth form students of Spanish, amongst others.