English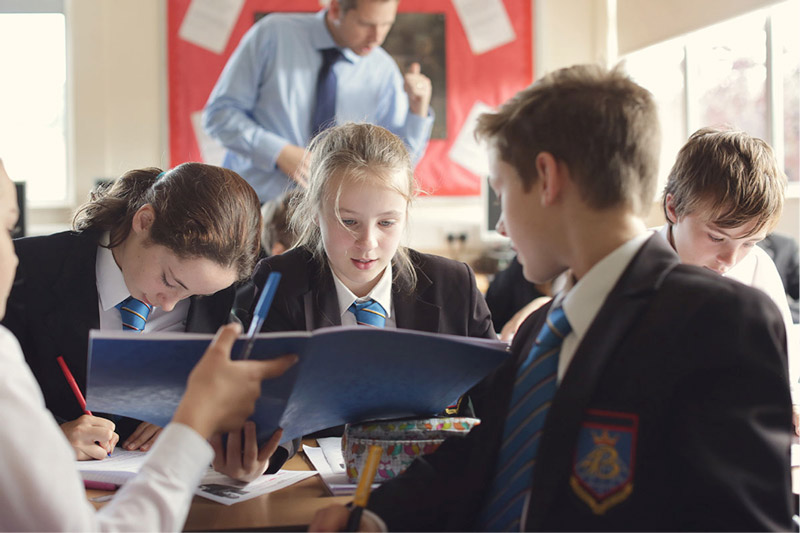 The department consists of eight full time English specialists all of whom teach across the full 11-18 age and ability range. The department is housed on two floors in the main school block along with the library which staff are able to make full use of in lessons. All of the English rooms are equipped with data projectors, interactive whiteboards and networked computers on which students are able to research and work in lessons.
Key Stage 3
In Key Stage 3, students follow six half termly units per year which, across years 7 to 9, comprise fiction, non-fiction, media, creative writing, drama, a Shakespeare unit, a performance poetry unit and speaking and listening tasks. In Year 7, students read the novel Wonder by RJ Palacio and they also cover The Tempest; in Year 8, we do The Boy in the Striped Pyjamas by John Boyne; and in Year 9 we do Romeo and Juliet and Of Mice and Men. All schemes of work have been devised in-house by the department and are regularly reviewed and developed. Each unit of work is followed by an assessment where progress is measured against grade specific criteria. In Year 7, pupils are taught in mixed ability tutor groups and in Years 8 & 9 divided into sets following a broad upper/middle/lower pattern. KS3 students receive 6 English lessons a fortnight.
GCSE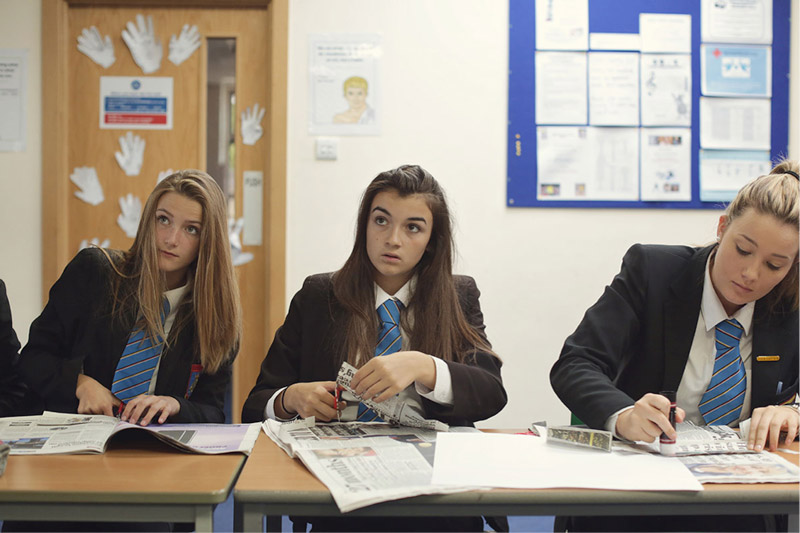 We follow the AQA syllabus and all students do English and English Literature. The texts that we study are Blood Brothers, A Christmas Carol, Macbeth and the Power and Conflict anthology poems. We try to teach the language units thematically and to integrate descriptive, narrative and the unseen fiction and non-fiction tasks alongside our study of the literature texts. Students are reset at the start of Year 10 according to a broader whole school banding policy with maths and science, but which again follows the basic upper/middle/lower pattern.
Our GCSE results are excellent:
In 2014, 88% of students achieved A*-C in English Language and 97% A*-C in English Literature
In 2015, 88% of students achieved A*-C in English Language and 99% A*-C in English Literature
In 2016, 87% of students achieved A*-C in English Language and 99% A*-C in English Literature
A Level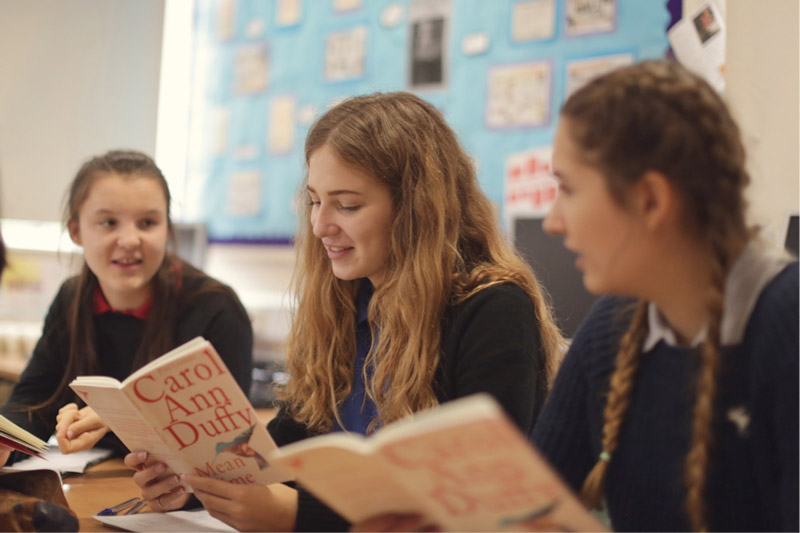 The department offers the WJEC English Literature syllabus at A level and take up is extremely healthy. In Y12 students follow the AS course which culminates in two external exams and in Y13 they study 4 further units (one coursework unit and three exam units) to make up the complete A level course. For AS, students study the novels Jane Eyre and Wide Sargasso Sea for their prose paper and Carol Ann Duffy's Mean Time and Oscar Wilde's Lady Windermere's Fan for their poetry & drama paper.
For the full A level, students study Shakespeare's King Lear. They then reprise Lady Windermere's Fan which they compare with Harold Pinter's play Betrayal in the drama paper. In the poetry paper, they have to answer one question on Chaucer's The Merchant's Tale, reprising Duffy's Mean Time to compare with Philip Larkin's The Whitsun Weddings for a second question. The final exam is a practical criticism unseen texts paper. Here students have to respond in one question to an extract from a prose text published between 1880 and 1910 and in a second question to a short poem.
Trips
Extra-curricular activities are extremely important to us. We take Year 11 to see Blood Brothers every year and have run trips to see Shakespeare productions in Stratford Upon Avon. We get involved in the Cheltenham Literature Festival by attending author events from Y7 through to A level. We participated in two sessions of their short story slam and this year will be taking part in the Carnegie book award shadowing scheme. We also run in-house events such as an annual Y7 public speaking competition and a Year 9 debate day which for the first time this year we ran in tandem with other invited secondary schools.
David Sharkey
Head of English