History
Welcome
"The core mission of the department is to make history accessible and attractive to all young people so that they continue to engage with history once they leave full time education. We use a variety of teaching methods to achieve this and we pride ourselves on the positive ethos which we have worked hard to build up. We also put great emphasis on extra-curricular in order to bring the subject to life - from trips to clubs, we constantly review our provision. The coat of arms represents the high academic standards we set the students and ourselves and can be seen hanging in the entrance to the department (see above). We run regular competitions and this year's will be "Who Do You Think You Are?" where we will invite all members of the Balcarras Community to submit their own interesting family history narratives for display in the department.
Curriculum Map
We have five full time teachers; Mr Michael Stoker, Mr Darren Leatherbarrow, Mr Patrick Sexton, Miss Jodie Wilkinson and Mr Andrew Harding. Our head teacher, Mr Burke, also teaches various groups. We are based in our own suite of five classrooms, one of which is a multi-purpose computer room with another being a sixth form seminar room. Our department also offers excellent mentoring year after year of trainee teachers. We take great pride in the look of our department and we were very pleased to yet again be in the top 3 places for best departments in the school for the previous 5 years."
The major features of our curriculum are listed below.
Key Stage 3
Our overall approach to KS3 History is to study British History chronologically from the Medieval period to the 20th century. Alongside this we also study a number of comparative international courses. In Year 7 we study British history from 1066 to 1485. To add an international dimension we study American history focussing on Native Americans. In year 8 students again focus on British history looking at the rise of modern Britain from the Tudors and Stuarts through to industrialisation in the 18th/19th century. Students also look at the French revolution as a comparison with the British civil wars. A local study is also made of Cheltenham during this period by considering its rise to prominence as a Spa town. The Year 7s also get a chance to explore various African states in the pre-colonial era as part of a curriculum day focus
In year 9 we focus on twentieth century history. Students study the Titanic to find out what it can teach us about Edwardian society. They then study WWI and WWII with a look at the rise of dictatorships between these two global conflicts.
We also complete an in depth study of the Holocaust which we teach thoroughly and sensitively. In the summer term students consider international events of significance from the second half of the 20th century such as civil rights or the impact of terrorism.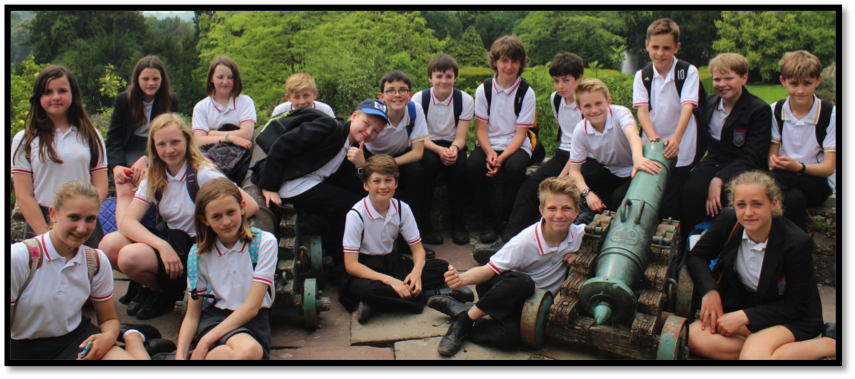 Other events for KS3 students
One of the most successful activities run by the department at KS3 is our modelling club. Over the last 8 years the club has produced models of several significant battles including Waterloo, D-Day and Rorkes Drift. Currently students are working on a Battle of Britain dog fight as well as their own individual projects.
As well as this the department has recently run a curriculum day for year 9 students called "Days that shook the world: The curator challenge." This required students to compete to research, plan and present a concept for a museum about a significant event or topic from 20th century history.
GCSE
Take up for GCSE is very strong with history continuing to be one of the most popular option subjects. We started the reformed GCSE in September 2016 and we are following the AQA specification. In paper 1 we study Germany 1890-1945 and the Cold War 1945-1972. In paper 2 we study a thematic course on British history from 790AD to the present day looking at migration and the development of empire. In the final unit of paper 2 we complete a depth study on Restoration England 1660-1685. For the first two cohorts, on average our history students get 20% or higher than any other students of GCSE History in the country
One of the most popular elements of the GCSE course is a 6 day trip to Berlin. For the last two years we have taken nearly 90 students which is the largest trip run by Balcarras School. This trip provides an excellent opportunity for students to understand the modern courses we study in an active and engaging way. We visit a variety of places in and around the city including Sachsanhausen concentration camp, the Reichstag and many other sites of importance.
A Level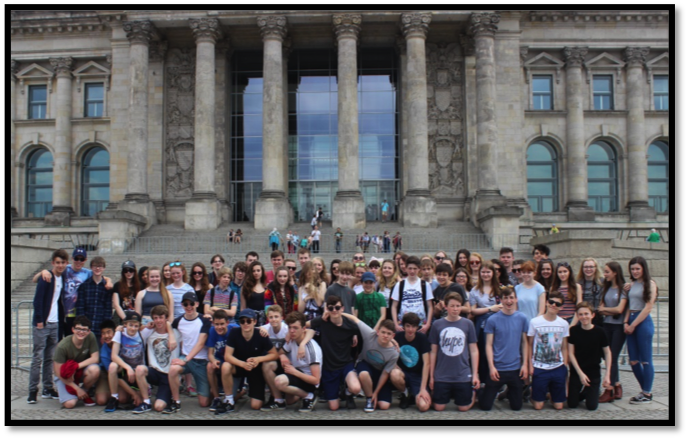 We have in recent years organised a study visit to New York in October half term and this occurs every two years. Keep an eye out as are always looking to adapt trips. Our results at A level are also very successful since starting the new specification we have had an average of 62% of our students getting A*-B and above 92% of A*-C.
A Level Politics
From September 2009 the department has offered A level Government and Politics. In year 12 students study British politics and in year 13 they study the development of political ideologies. The course is taught in a variety of ways and in particular there is a real emphasis on students engaging with current affairs in order to bring their knowledge and understanding up to date.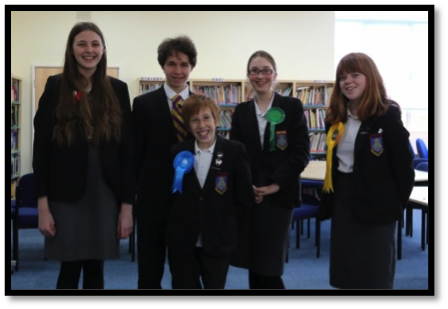 As well as this we go on a number of visits and arrange talks. In recent years the department has organised a school mock election in 2015 and a mock referendum in 2016. The most recent election we were very fortunate to have the Conservative, Labour and Liberal Democrats deliver excellent speeches to students from our entire school. Our students have also recently taken part in a model United Nations day in Oxford and are regular participants in Youth Parliament and Young EU discussions, despite the recent political realignment.
Trips
We have a number of study visits including a comparison visit to Chepstow and Berkeley Castles, Parliament, The Commandery in Worcester, and the Imperial War Museum to support students in studying across all the different key stages. We also run a guided visit to the WWI battlefields in France and Belgium every activities week for Year 8s. As well as this we organise a number of visits from various historical backgrounds such as a WWI Tommy, local museum curators, and even guest professors from leading universities.