Careers
Careers education and guidance is a vital part of the educational experience at Balcarras. The school aims to deliver careers guidance that is impartial, confidential and based on the needs of individual pupils. Our policy is to support, encourage and enable pupils to make informed choices and transitions related to their personal, educational and career development. The careers programme is comprehensive and underpinned by the GATSBY benchmarks and guidance from the Department of Education.
In an ever-changing working environment we are committed to preparing our students to make informed and appropriate choices to meet their individual needs. We want students to be inspired and raise their aspirations by offering them as much information as possible about the world of work and also their own skills set as they move through the school.
Sample of Balcarras school careers provision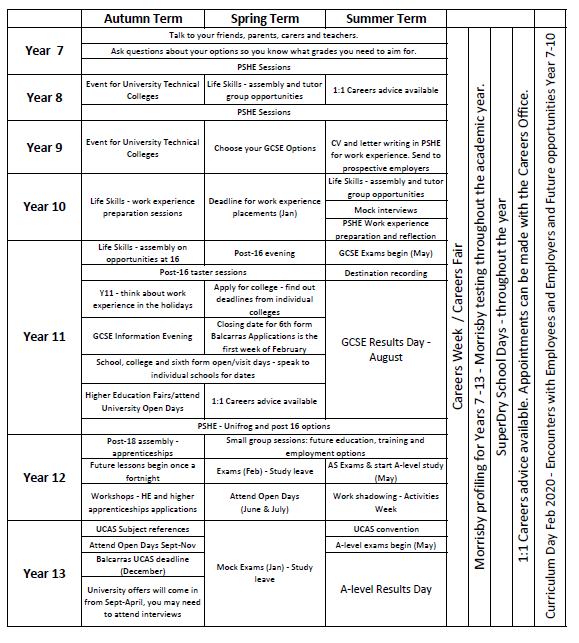 Careers Learning Journey

Example of Careers learning Journey from Year 7 to 11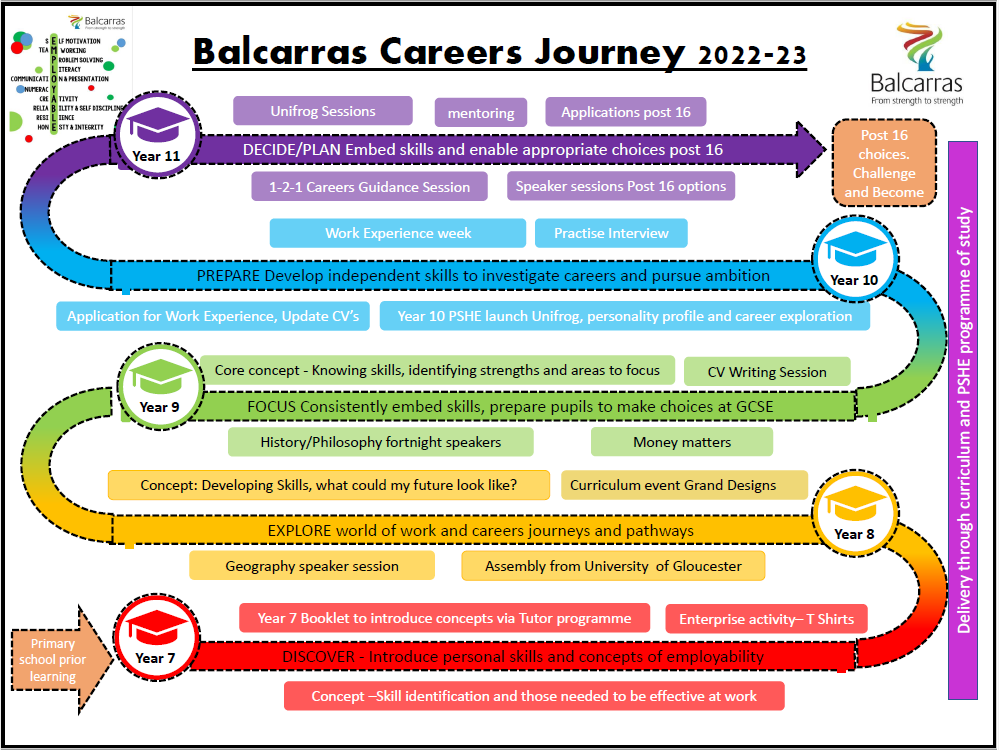 The Gatsby Benchmarks
A stable careers programme
Learning from career and labour market information
Addressing the needs of each pupil
Linking curriculum learning to careers
Encounters with employers and employees
Experiences of workplaces
Encounters with further and higher education
Personal guidance
Careers and the Curriculum
Careers is embedded across the curriculum, in everyday learning, with reference to employability skills and careers opportunities in every subject area. Additional information sources include partnership with local businesses and professionals, apprenticeship providers, employment agencies, educational institutions and national employer organisations as well as HE and FE providers. The school personal development curriculum also ensures a comprehensive delivery of content through our tutor programme too.
How do we deliver careers guidance and support?
Balcarras has a well-resourced careers hub which provides space for students to research as well as gain information from the careers leader and a fully trained careers advisor. Personal guidance is available to all pupils who request it and allocated guidance sessions in Year 11 and Year 13 take place for all students from our independent careers advisor Mrs J Lewis.
The careers hub and the sixth form both have a careers board where opportunities are regularly advertised to students. Full support for pupils is offered via a whole school approach to 'employability' with pupils, staff and parental involvement. Every year we hold an annual careers week in the Autumn term with an annual Careers Fair and HE event on one evening that week. Every student takes part in a practise interview and a week of work experience in Year 10.
Sixth form students are provided with a broad range of guidance through tutor support, speaker session and the Futures programme delivered within the sixth form timetable.
KS4 and KS5 students are provided with a log in to the platform Unifrog. This comprehensive tool provides them with a guide to post 16 and post 18 choices as well as allowing them to track their progress, access university prospectuses, write CV's and explore apprenticeships among many other tools. Unifrog also has a comprehensive range of resources including subject related careers advise and information.
Students that would like to, can take part in personality profiling which is currently delivered through Morrisby. Any student or parent can request to do this (although there is a cost) and should contact careers to find out more.
Students and parents also have access to a wide range of additional resources via the school's VLE.
How do we review our programme?
The development of CEAIG is a continual priority in the school's strategic development plan with an aim to constantly improve the careers programme for students. The Careers Team and SMT meet on a regular basis to develop, monitor, and evaluate CEAIG (Careers, Education, Information, Advice and Guidance) across the school. Progress towards the Gatsby Benchmarks is evaluated using the online Compass tool (as recommended in Careers guidance and access for education and training providers). This is done using the Compass + platform tool throughout the year. The Careers Department also measures careers events and impact by using both student, parent and staff evaluation forms. Balcarras measures and assesses the impact of its careers programme for students regularly, in addition to a detailed annual review of progress. The careers programme is evaluated annually with the next review in summer term 2024.
Information for Employers
The school enjoys close links with many local businesses and the community. We are always encouraging of these links. If you would like to visit or be involved with our careers programme please contact careers@balcarras.gloucs.sch.uk or tel 01242 515881 ext 146.
How can pupils, staff and parents find out more?
The careers department have created a comprehensive programme of resources to support the delivery of careers across the school and to provide information to all. This is found on the schools VLE and highlights of this are found below. Please click on the buttons below to access these resources (you will need to login to the schools VLE when you do this).
Provider Access policy
Our provider access policy 2023/24 can be viewed by clicking here