Geography
Welcome
The geography department has an enthusiastic and committed team of teachers who are all longstanding and dedicated members of the Balcarras team. Miss Searle (Head of department) Mrs Cullis (Assistant head teacher), Miss Niblett (Head of Selvey), Mrs Bull (D of E coordinator and Head of Careers), and Mr Pearce (Website coordinator).
The department is dedicated to instilling a love of geography and in helping all pupils achieve their maximum potential whatever their stage of education.
Geography at Balcarras
With the national curriculum at our core, we aim to deliver a high quality, rigorous, exciting, and balanced geography curriculum at Balcarras. Geography is taught as a discrete subject at both Key Stage 3 and Key Stage 4 with the intention of providing pupils with the skills to become geographically literate citizens within a dynamic and everchanging world. The study of the subject will enable them to develop the life skills and foundation knowledge for them to be responsible citizens, who are able to understand and contribute to a sustainable future.
By studying geography pupils will build an understanding about their place in the world and be encouraged to appreciate the differences beyond their immediate locality and experiences to become curious, confident, and independent thinkers. Our knowledge rich curriculum encourages pupils to develop a comprehension and understanding of current geographical events, places, and issues, from local to global, and empower our young people to become confident, active, and global members of society. Students take the knowledge and understanding gained from their learning into their future, thinking about their role and choices in an increasingly technological, globalised, and complex society.
As a powerful bridging subject geography has strong cross curricular links and the study of geography equips pupils with a variety of transferable skills, such as greater spatial awareness, literacy, communication, numeracy, enquiry, problem solving and computing. Geographical enquiry also helps our young people to develop important skills for use inside the classroom and in later life.
Fieldwork is an essential element of this, allowing students to visualise and experience geography in their local environments, as well as further afield. This allows the development of a strong interest in their own surroundings and an appreciation of the variety and interconnectedness within the physical and human landscapes and processes that exist in our world. It is the department's intent that geography should encourage students to gain enjoyment and inspiration from their geographical understanding whilst feeling a sense of success from their achievements. As a result, this allows them the skills, understanding and confidence to engage critically with real world issues and places.
Curriculum Map KS3
Curriculum map KS4
Curriculum map Yr12
Curriculum map Yr13
| | | | | | | |
| --- | --- | --- | --- | --- | --- | --- |
| | AUTUMN TERM 1 | AUTUMN TERM 2 | SPRING TERM 1 | SPRING TERM 2 | SUMMER TERM 1 | SUMMER TERM 2 |
| Teacher 1 | | | | | | |
| Teacher 2 | | | | | | |
The department comprises of 4 dedicated teaching rooms all equipped with interactive whiteboards, projectors and Apple TV. Within these there is also a dedicated teaching room equipped with 20 computers for use within the department alongside specialised software packages and GIS and a class set of I pads. A range of resources are used to deliver the content across the key stages and we are proud of our above national average results in all key stages.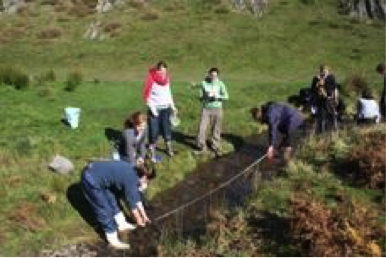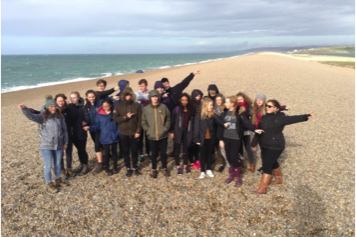 Key Stage 3
The KS3 Curriculum is diverse and engaging. The young geographers will study seven topics per year comprising of both physical and human geography. Assessment in geography takes many forms with students being supported in learning how to use self-reflection, peer assessment, progress monitoring and target setting. These methods are used in addition to formal teacher assessment and students are encouraged to celebrate their success and consider targets for improvement. Independent learning is a key priority and all students will be encouraged to develop these key skills through geography. We also try to invite speakers and organisations in to the department; Year 8 have previously had the pleasure of seeing a rainforest workshop where they got friendly with some creepy crawlies! Topics in key stage 3 include Help! We are going under, glaciation, population pressure, violent earth, ecosystems, climatic hazards and development amongst many others.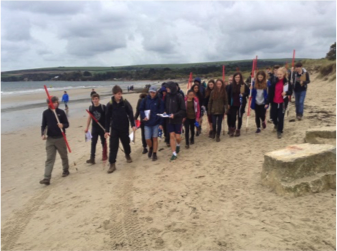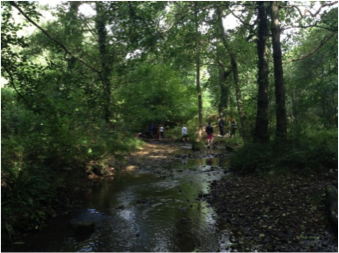 GCSE
Geography is a subject enjoyed within the Lower School and as a result many Year 9 pupils opt for the GCSE Geography course. Since September 2016 we have been studying the new AQA 'A' GCSE Geography syllabus. This course is wide ranging in content with three exams at the end, physical, human and skills papers. Topics covered are broad and include hazards, changing economies, physical landscapes and resource management amongst others. There is emphasis on current issues and a broad skills base, enabling the pupils to gain a wider insight into the world around them but also enhance their employability with numeracy, literacy and discursive skills.
A Level
We currently have 70 students studying A-level geography (AQA) here at Balcarras. The department is attracting large numbers of both internal and external candidates. Year 12 consists of the topics of Hazards, Coastal landforms and Changing places topics, this is intermingled with skills training. We finish Year 12 with a residential weekend in Dorset to study the coastal landforms and to develop vital geographical skills. It provides the fieldwork skills required for the study of the Non-Examined-Assessment which is worth 20% of the final mark. If candidates go on the study the full A level in Year 13, they study the topics of Water and Carbon Cycles, Global systems and governance and population and the environment.
There is an information leaflet with more detail click here or see the link at the bottom of the page.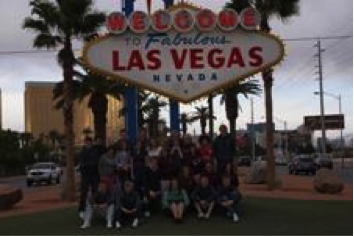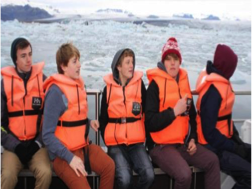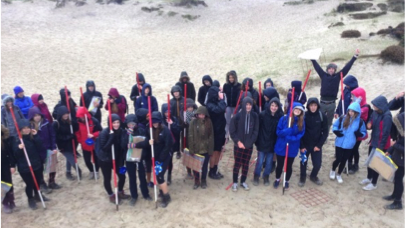 Fieldwork and Trips
Fieldwork is a fundamental aspect of geography which we are fully committed to delivering. The pupils have access to fieldwork opportunities at all stages. As a department we are also committed to working with other local schools and have an excellent Gloucestershire network of teachers who meet regularly at Balcarras. We take part in annual inter school quizzes and aim to expose our pupils to as many possible 'hands on' experiences of the subject as possible. The department are also keen to invite outside speakers in to talk on relevant topics to pupils such as Year 12 speaker session on climate management and mitigation from a University lecturer.
A variety of day trips are run throughout key stage three such as trips to Cheddar gorge, Natural History Museum and Cotswold Wildlife Park, along with many smaller outdoor studies in lessons around the school and local area such as a microclimate survey or carbon footprint analysis.
At GCSE pupils spend a day at either a river or urban location in preparation for their geographical skills paper. We also run an optional residential trip for pupils in Year 10 which is both curriculum and skills based but also broadens the pupils understanding of the geographical world around us.
In year 12 we run a residential trip to develop fieldwork skills and better understand environments, this has been to Dorset in the past where we combine geographical studies of stunning locations such as Lyme Regis, Charmouth beach for fossil hunting, old harry rocks, Studland sand dunes and Lulworth cove. Year 12 undertake a study of the local area to compliment the Changing Places topic and to build ideas for their NEA.
Every two years we run a foreign residential trip and we have visited Iceland, the West Coast of America and Italy in recent years. In 2023 we will be off to Iceland.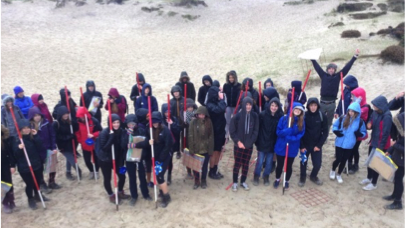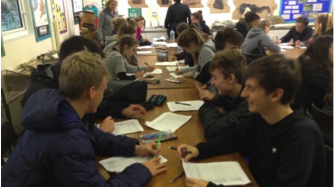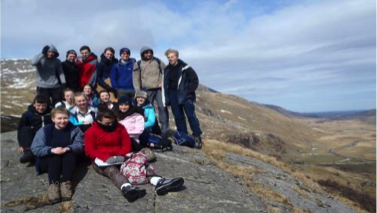 Future Career Paths
Over the past few years many of our students have gone on to study geography or associated subjects at university. This is testament to the enthusiasm of the teachers of the subject at Balcarras and the passion for the subject they instil in the pupils.
If you would like to further your own geography knowledge, have a look at our recommended geographical reads.
Alumni
Simon Astbury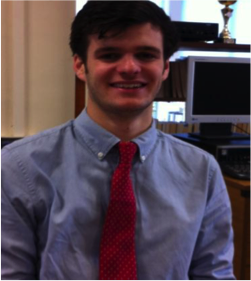 Simon was a pupil at Balcarras from 2004 to 2011. He graduated with a BSc in Geography at Plymouth University. "I chose Geography at degree as it was always my favourite subject and the one that I was best at. Throughout my A levels I knew it was what I wanted to do and so I put more energy into Geography over my other subjects". He subsequently went on to do a PGCE and completing his training back here at Balcarras. He now works full time fulfilling his passion as a Geography teacher in Bristol.
Catherine Rice Williams (University of Sussex)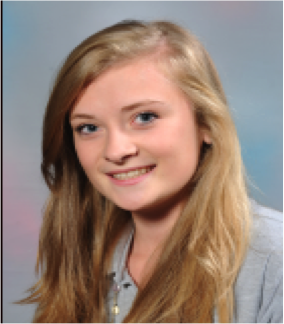 Tell us about yourself?
I attended Balcarras from 2006-2011 and Sixth Form from 2011-2013. I achieved 14 GCSEs and 3 A Levels in Geography (A*), Russian (A) and French (B), as well as an Extended Project which was on a topic related to geography. I am currently a second year undergraduate studying a joint honours degree in Geography and International Development at the University of Sussex.
Why did you decide to study Geography A Level?
Completing a GCSE in Geography confirmed my passion for the subject and I knew that it was something that I wanted to pursue to A Level.
What other subjects did you study and did they complement each other?
I also studied Russian and French which seems like madness at the time however; I very much appreciate having studied this combination as it has allowed me to explore my options of studying a degree at university. I would say that Geography is a subject that compliments any other discipline and when I was studying for my A Levels I feel that the combination of languages and Geography worked well.
What are you doing now and did your Geography help?
I am now studying Geography and International Development at university so obviously my previous studies of Geography at Balcarras played a major role in enabling me to get where I am today. Studying Geography also reinforced my passion for travelling and I have now had the incredible opportunities to visit many countries, and even carry out volunteer work abroad which has been an invaluable experience.