Teaching School

Psychology Event 2019
Wednesday 18th September 2019
The psychology department are delighted to announce that we will be joined by guest speaker Tracey Elder at our upcoming network meeting. Tracey is Head of Curriculum for Psychology at AQA. The session will be focusing on feedback and exam tips following the recent AS and A-level exams, interpretation of mark schemes, as well as what is expected of students. Delegates are invited to share their own marking experiences, as well as preparing any questions for Tracey.
The event will begin at 1.20pm and run until 3.20pm, with lunch being provided from 1pm.
If you would like any more information about the event please contact Roxy Adams. Her email address is: ra@balcarras.gloucs.sch.uk. If you would like to book places for you or your colleagues please contact Jo Newman. Her email address is: jmn@balcarras.gloucs.sch.uk or visit: https://goo.gl/forms/1a0qEYWe6QrdTl1t2
This event is free to all teaching school partners and £20 to non-teacher school partners
LUNCH ON ARRIVAL FROM 1.00PM
Primary Science event

Thursday 27th June Balcarras School
Free
The aim of this course is to support professional development of teachers delivering Science, with a focus on the transition from KS2 to KS3.
Physics is consistently highlighted as an area for professional development and this conference aims to provide invaluable science CPD for primary teachers with emphasis on physics and primary to secondary transition.
This is a perfect opportunity to tackle some tricky topics in primary science and for secondary colleagues to learn about physics in the primary classroom. Our conferences always provide outstanding learning opportunities linked to topical developments in science teaching alongside time to talk and share ideas with other practitioners.
This conference will provide hands-on practical physics workshops, led by colleagues from the Ogden Trust, full of ideas to take back to your classroom which incorporate maths and English. This will increase your confidence in teaching and encourage creativity in your classroom. Workshops include:
• Physics focus – light and sound – This interactive workshop will cover the key concepts of light and sound required by the Key Stage 2 curriculum
• Creative Cosmos – with lots of emphasis on maths and English skills, this session show's how to use space as a context within the broader curriculum
In addition, Carol Sampey of the PSTT will explore and exemplify what makes 'good transition' in primary to secondary science which covers teacher assessment in Primary science, KS2 curriculum and implications for KS3 teaching. This conference will also provide an opportunity to network
To see the event flyer click here
Seventh Annual Teaching Conference
Date: Friday 30th November 2018
Time: 9.00am – 1.30pm
Venue: Balcarras
This year's Teaching Conference is entitled:
Stretch and Challenge for all
We are delighted to announce our keynote speaker will be Tom Sherrington, author of the highly successful 'Teaching rainforest'.
After the introductions, we have a number of exciting sessions to choose from, including behaviour and classroom management, stretch and challenge of more able students and 'Knowledge, memory and assessment. Getting the formative-summative balance right' from Tom Sherrington. This year's event will also offer the opportunity for department discussion and feedback time.
The sessions are free to members of the Balcarras Teaching Partnership or £120 for the whole day, including one main speaker, two sessions, department time and refreshments. To book a place, contact ra@balcarras.gloucs.sch.uk
Event Reviews
Geography GCSE and A-level exam reviews December 2019
"Both days were excellent, with very useful resources being provided and attendees came away with a lot of practical ideas to be able to put in place within their SOW and their lessons. Both speakers were great and very knowledgeable, they gave practical advice and feedback on not just the exams but also daily ways we can ensure the best progress for pupils'' Nicola Lambert-Masters
On Tuesday 12th November 2019, Balcarras hosted a history AQA exam review. The history department were joined by a guest speaker from AQA and had the opportunity for feedback and advice following the 2019 summer exams. The session was described by M.Stoker (Head of history) as 'very successful and very useful for all.'
2017 to 2018 was another successful year for the Teaching School, with new additions to the partnerships and a variety of activities and events being delivered, alongside school to school collaborations. The sixth annual teaching and learning conference was attended by 300 colleagues, with a focus on transformational teaching. Furthermore, we have continued with our successful transition group projects and NQT training programmes, alongside our MFL network, geography network, English events and maths hub events.
This year also saw the introduction of a music network and the popular aspiring leaders programme in conjunction with Pittville School. Moreover, Balcarras invited year 9 students for an English debating challenge day, as well as year 5 students for an exciting stretch and challenge science day.
2018/2019 is set to be an equally busy year for the Teaching school, with our seventh annual conference on November 30th, with the theme of 'stretch and challenge for all', as well as many subject, pastoral and leadership events lined up throughout the year.
Miss R. Adams (Teaching School Assistant Coordinator)
The first Music Network organised by the Partnership took place on Wednesday 4th July 2018. Colleagues from both primary and secondary sectors attended.
The intention of this first meeting was to give people the chance to meet and talk and to decide on the way forward for the Music Network. We have agreed to look to meet once a term with the next meeting before October half term when we all start to get swamped by Christmas!
Possible foci that have been suggested for future sessions include:
assessment (perhaps including Ofsted angle and 'building' from KS2)
KS2-3 transition including understanding what primaries may be using e.g. Charanga and what inspirational ideas there might be out there to aid transition and so forth
General sharing of resources (but perhaps needs a more specific focus?)
GCSE and A Level focus
Pupil Premium - and maybe differentiation as well?
There is potential for visiting speakers for at least some of the above as well.
Please feel free to 'spread the word' about this network. It would be fantastic if it could grow and include both primary and secondary colleagues. Other ideas for foci for this group are also very welcome.
Please email Helen Chong, Director of Music at Balcarras, hjc@balcarras.gloucs.sch.uk with any thoughts, ideas or questions.
'On Wednesday 6th June we were lucky enough to work with Fiona for our department INSET afternoon. The session was superb! Despite initial apprehensions, Fiona made everyone feel at ease and we all enjoyed taking part in a range of exciting, stimulating drama tasks. The thought provoking session focused on Shakespeare's Macbeth (one of our GCSE texts) and really brought the text to life - hopefully something we can take it to our own teaching. There was a real buzz in the atmosphere and we all left feeling inspired and with some engaging, practical ideas to take in to the classroom. '
Hannah Wranosky, Balcarras
'I thought the session was great, Cara spoke confidently as normal and it was really interesting to hear her views on the new specification. It was also really useful to find out what other teachers thought about the new specification and to discuss ideas'
K. Dowdeswell, Cotswold school

'The NQT programme has been great - as a group, we met frequently throughout the year to discuss pedagogy but it was also an opportunity to get advice from colleagues. We also met with NQTs from other schools which gave us the chance to find out how others in our position were getting along. In my department, I had weekly meetings with my NQT tutor who helped me survive the year. I gained invaluable advice about how to deal with Sixth Form students, and how to navigate the wider school system'
S. Load, Balcarras school
On 17th October 2016, the 6th form network met to discuss Level 3 Value Added and the implications of this data for OFSTED inspections in the area. We looked at a full debrief of a recent OFSTED inspection at a partner school, as well as round table discussions on post-16 curriculum design and EPQ delivery. This network is a great chance for all sixth form and post-16 providers in the area to share thoughts, ideas and best practice. An ever growing group has been joined by schools as far away as Bath.
Brett Jouny
The middle leaders forum met in the spring and summer terms of 2016. During the initial forum middle leaders from both primary and secondary schools decided on their priorities for future meetings and had an opportunity to network across school and phase. The key issues raised were dealing with difficult situations as a head of department and life without levels. The summer forum saw a group of over 20 middle leaders from several primary and secondary schools ask Bob Lacombe, an experienced head of department from Balcarras School, questions about difficult issues they had faced. The group had the opportunity to talk about how they would deal with these situations. A group of middle leaders from Woodmancote Primary School then talked about their experience of life without levels and again the forum had the opportunity to share ideas. In the feedback from these forums the opportunity to find out what is happening both across schools and phase has been highlighted as a real benefit.
Gary Towers
A very informative and exciting presentation from Unifrog and FutureLearn explaining the ways in which we can best support our students' applications to higher education. Sessions were held on personal statements, the right University choice, online courses (MOOCs) and all they can offer, as well as the importance of destination data and the role we can play in collating and storing this.
Brett Jouny
Sixth Annual Teaching Conference
The sixth annual teaching and learning conference was held on 24th November 2017 at Balcarras School and was attended by over 250 colleagues from our partnership schools. Phil Beadle started the day with his keynote address what makes a transformational teacher? focussing on the five key values that a teacher might want to hold if they were to have a transformational effect on the life chances of the children they teach. Our second keynote address was delivered by Dominic Salles. Dominic's keynote covered key questions and suggestions for transforming teaching.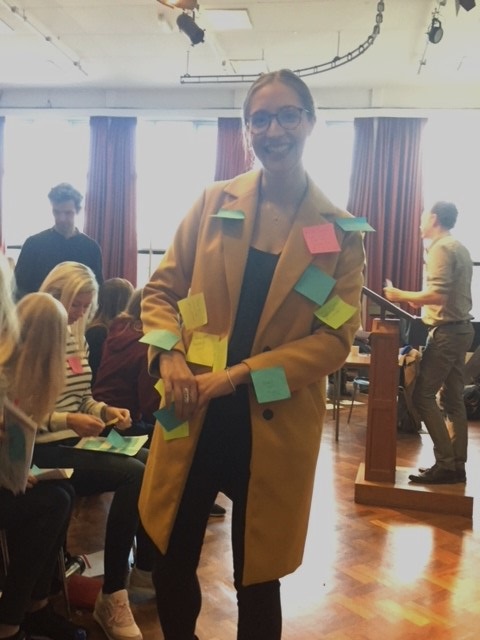 There were 11 workshops to choose from this year; the organisers attempted to appeal to a wide range of needs so there would be something for everyone to enjoy. The sessions included an EAL workshop, classroom behaviour management, how to get the best out of your trainee teachers, stretch and challenge, A-Z of pastoral, transition from year 6 to year 7, dealing with the adolescent brain and many more. Feedback from the sessions was extremely positive and it looks like our visitors took something useful away with them to transfer to their classrooms. The seventh annual conference will take place on November 30th 2018,
Balcarras as a Teaching School
Balcarras was designated as a teaching school in May 2012. Our aim is to create and develop a professional learning community where teachers from across the partnership feel able to share practice and learn from one another. To some extent this is inspired by the work of Michael Fullan in Ontario, but it also emerges from the considerable partnerships that have been established between Balcarras and other schools in recent years. Our partnership is genuinely cross phase and we have over 30 schools and various other organisations as members.
At the heart of our partnership is a desire to improve teaching through sharing practice, facilitating opportunities for research, identifying common areas for development and acting as a 'hub' to tie all of these different elements together. We want to be action centred so that teachers feel that there is a real impact on the ground. We are open to ideas from all partners and see this as vital in establishing a lasting partnership where all partners feel that they have an input to give, as well as receiving tangible benefits from their role in the alliance.
We have already established a number of projects which have impacted on the quality of provision within our schools. Since May 2012 over a thousand people have attended events organised by the partnership. Below is just a flavour of the work we have undertaken so far.
Network
We have networks established in the following areas:
CPD
We have run a number of CPD courses in the following areas:
Aspiring senior leaders
Improving your teaching
Leading a department
Lesson observation
Literacy in every classroom
New heads' training
Promoting higher order thinking
Teaching School NQT Programme
Pastoral conferences
Improving students' mental health
Stretching Gifted and Talented students
Contact Us
School Partnership Contacts
Newsletters
If you are interested in the work of the partnership the newsletter, which, are sent out every term will give you a flavour of our work. See below for the latest edition.
Contact us
If you would like any information about the partnership please contact us. Several schools have joined the partnership in the last year and we are open to the possibility of new members joining. Equally if any of the programmes we run interest you please do get in touch because several of them have been attended by non-partner schools.
Liz Cullis, Assistant Headteacher: ejc@balcarras.gloucs.sch.uk
Roxanne Adams, Assistant Co-ordinator of Teaching School: ra@balcarras.gloucs.sch.uk
The partnership has its own website which has more detail about our members and our programme.
www.balcarrasteachingschool.com