Teaching School Hub
We are delighted to announce that Balcarras has been named a Teaching School Hub by the DfE. This will take effect from September 2021 and we continue, for now, in our role as a Teaching School.
As a Hub we will be responsible for helping to improve Teacher Development for teachers at all stages of their career in all schools in Cheltenham, Stroud and the Cotswolds. We will be working in close collaboration with the Odyssey Teaching School Hub who cover the rest of Gloucestershire.
Our Key Areas of focus are:
1 - To deliver the Early Career Framework (ECF). We have partnered with UCL (Institute of Education) as our main delivery partner and we are designing a program for ECT's at the moment. The Local Authority, Adfecto, Odyssey and Balcarras are working together to ensure that ECT's (Early Career Teachers) across Gloucestershire will be provided with full training to meet all of the requirements of the new framework. This will be the FIP (Full induction program). The DfE will ask that you sign up ECT's on their portal - we will then link with you via that portal if that is what you choose. If you have any questions or are keen to let us know of an Early Career Teacher in your school, please do contact us. More information will follow in April.
2 - To deliver the new suite of National Professional Qualifications (NPQ's). More information will follow on this in the Summer term.
3 - To continue to support the delivery of Initial Teacher Training in the county.
4 - To facilitate training and Continuing Professional Development (CPD) for all teachers. If any school or teacher has requests for CPD please do let us know. We will be in touch with all Headteachers after Easter to undertake a needs analysis and gauge your insights and opinions on your requirements going forward. We are keen to learn about existing networks of teachers who might benefit from our support with CPD. Please do get in touch if that is you.
We intend to work closely with each and every school and aim to enhance the links between Curriculum Hubs and all educational providers across the region.
The Teaching School Hub website will be launched in the Summer Term with further details on the above. In the meantime please do get in touch with Liz Cullis - Director of the Teaching School Hub (ejc@balcarras.gloucs.sch.uk) with any questions that you have.
DfE information on the changes to to Teacher Development
Teacher development narrative for schools
Teaching School Mastery Team

Secondary School teachers
'Teaching for mastery describes the elements of classroom practice and school organisation that combine to give pupils the best chances of mastering their subjects. Achieving mastery means acquiring a solid enough understanding of the content that's been taught to enable pupils to move on to more advanced material' (NCETM, 2020).
Pippa Baker has been teaching for Mastery in maths over the past few years.We are now wanting to extend this into all classrooms and examine the role of Teaching for Mastery in all subject areas. We are looking for a group of teachers from a range of subject areas, headed up by Pippa, to apply Mastery techniques within their classrooms.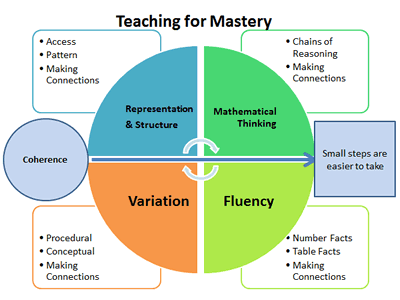 'A central component in the programmes to develop Mastery Specialists has been discussion of Five Big Ideas, drawn from research evidence, underpinning teaching for mastery. The diagram below is used to help bind these ideas together' (NCETM, 2020).
The group will meet (virtually) four times throughout the year, in order to discuss the range of techniques available and how these can be applied within the classroom; as well as feeding back on any successes experienced. This will be supported by classroom observation of Teaching for Mastery in action.
If you would like more information on Teaching for Mastery, please visit https://www.ncetm.org.uk/teaching-for-mastery
Event Reviews
Defining and enhancing the role of the subject leader- managing curriculum change
On Tuesday 10th November 2020, Balcarras Teaching school hosted a virtual session on 'Defining and enhancing the role of the subject leader- managing curriculum change', delivered by the team at Learning Cultures. We were joined by 26 delegates from primary and secondary settings. The session was extremely useful in providing an insight into coaching skills and techniques that support subject leaders in ensuring that there is a powerful culture of sharing and cascading of good and outstanding practice across their teams. We also examined the basics of the new OFSTED framework and the emphasis on curriculum as the driver for quality in education.
Our teaching school continues to grow and goes from strength and strength. It is wonderful to see the support from our partnership schools is ever present at our events. Despite the current situation, the autumn term saw the successful return of subject networks, as well as offering a range of bespoke training opportunities including:
20 NQTs across the partnership, both primary and secondary, participated in our programme which seeks to support the existing provision within schools.
Guest speaker Steve Garnett delivered two sessions for partners on cognitive load theory, as well as guidance and resources to aid raising boy's attainment.
The Geography department were joined by staff from partnership schools and further afield for their excellent GCSE and A level exam review courses.
Pippa Walker delivered an informative and practical session on working with adopted and cared for children.
A working with adopted children session was held on Wednesday 22nd January 2020, ran by Pip Walker who was incredibly insightful and highlighted the importance of attachment on children from a young age. It was eye opening to explore not only the psychological effects that trauma and neglect can have on children but also the impact on their physical health. The training highlighted the importance of ensuring that teachers are able to support students who have been affected by trauma and neglect and that with the right help and support, young people are able to move forward and be successful in whatever they choose to do.
Our highly successfully MFL Network continues to meet throughout the year, with an array of topics being discussed and guest speakers delivering sessions to assist in the teaching of MFL. On Tuesday March 3rd, our session focused on focussed on looking back on AQA GCSE Languages in 2019 and forward to 2020. The session received an array of positive feedback, with delegates gaining feed forward information on exams from a senior officer and 'great intel on how boards and examiners approach the GCSE and areas to focus on to prepare students as effectively as possible for the exams. Sharing good practice and finding out up-to-date info on patterns and trends/pitfalls for students'.
Our Senior Leaders Network also met again in 2020, with a focus on pastoral aspects of school life. Interesting discussions around KS3 and 4 were held, as well as an opportunity to share CPD practice and understanding which schools are wrestling with similar issues; allowing further talks to be held.
Unfortunately, a series of events had to postponed, including our Pastoral and Geography Networks; Raising awareness of student self-harm; Dealing with grief and bereavement in schools, and our 8th annual conference. These events will return in the new academic year and our conference will return on Friday 26th November 2021, Mary Myatt as our keynote speaker.
Geography GCSE and A-level exam reviews December 2019
"Both days were excellent, with very useful resources being provided and attendees came away with a lot of practical ideas to be able to put in place within their SOW and their lessons. Both speakers were great and very knowledgeable, they gave practical advice and feedback on not just the exams but also daily ways we can ensure the best progress for pupils'' Nicola Lambert-Masters
On Tuesday 12th November 2019, Balcarras hosted a history AQA exam review. The history department were joined by a guest speaker from AQA and had the opportunity for feedback and advice following the 2019 summer exams. The session was described by M.Stoker (Head of history) as 'very successful and very useful for all.'
2017 to 2018 was another successful year for the Teaching School, with new additions to the partnerships and a variety of activities and events being delivered, alongside school to school collaborations. The sixth annual teaching and learning conference was attended by 300 colleagues, with a focus on transformational teaching. Furthermore, we have continued with our successful transition group projects and NQT training programmes, alongside our MFL network, geography network, English events and maths hub events.
This year also saw the introduction of a music network and the popular aspiring leaders programme in conjunction with Pittville School. Moreover, Balcarras invited year 9 students for an English debating challenge day, as well as year 5 students for an exciting stretch and challenge science day.
2018/2019 is set to be an equally busy year for the Teaching school, with our seventh annual conference on November 30th, with the theme of 'stretch and challenge for all', as well as many subject, pastoral and leadership events lined up throughout the year.
Miss R. Adams (Teaching School Assistant Coordinator)
The first Music Network organised by the Partnership took place on Wednesday 4th July 2018. Colleagues from both primary and secondary sectors attended.
The intention of this first meeting was to give people the chance to meet and talk and to decide on the way forward for the Music Network. We have agreed to look to meet once a term with the next meeting before October half term when we all start to get swamped by Christmas!
Possible foci that have been suggested for future sessions include:
assessment (perhaps including Ofsted angle and 'building' from KS2)
KS2-3 transition including understanding what primaries may be using e.g. Charanga and what inspirational ideas there might be out there to aid transition and so forth
General sharing of resources (but perhaps needs a more specific focus?)
GCSE and A Level focus
Pupil Premium - and maybe differentiation as well?
There is potential for visiting speakers for at least some of the above as well.
Please feel free to 'spread the word' about this network. It would be fantastic if it could grow and include both primary and secondary colleagues. Other ideas for foci for this group are also very welcome.
Please email Helen Chong, Director of Music at Balcarras, hjc@balcarras.gloucs.sch.uk with any thoughts, ideas or questions.
Annual Teaching Conference
The next annual Teaching School Conference will be held at Balcarras School on Friday 26 November 2021.
Balcarras as a Teaching School
Balcarras was designated as a teaching school in May 2012. Our aim is to create and develop a professional learning community where teachers from across the partnership feel able to share practice and learn from one another. To some extent this is inspired by the work of Michael Fullan in Ontario, but it also emerges from the considerable partnerships that have been established between Balcarras and other schools in recent years. Our partnership is genuinely cross phase and we have over 30 schools and various other organisations as members.
At the heart of our partnership is a desire to improve teaching through sharing practice, facilitating opportunities for research, identifying common areas for development and acting as a 'hub' to tie all of these different elements together. We want to be action centred so that teachers feel that there is a real impact on the ground. We are open to ideas from all partners and see this as vital in establishing a lasting partnership where all partners feel that they have an input to give, as well as receiving tangible benefits from their role in the alliance.
We have already established a number of projects which have impacted on the quality of provision within our schools. Since May 2012 over a thousand people have attended events organised by the partnership. Below is just a flavour of the work we have undertaken so far.
Network
We have networks established in the following areas:
CPD
We have run a number of CPD courses in the following areas:
Aspiring senior leaders
Improving your teaching
Leading a department
Lesson observation
Literacy in every classroom
New heads' training
Promoting higher order thinking
Teaching School NQT Programme
Pastoral conferences
Improving students' mental health
Stretching Gifted and Talented students
Contact Us
School Partnership Contacts

Contact us
If you would like any information about the partnership please contact us. Several schools have joined the partnership in the last year and we are open to the possibility of new members joining. Equally if any of the programmes we run interest you please do get in touch because several of them have been attended by non-partner schools.
Liz Cullis, Assistant Headteacher: ejc@balcarras.gloucs.sch.uk
Roxanne Collinson, Assistant Co-ordinator of Teaching School: ra@balcarras.gloucs.sch.uk
The partnership has its own website which has more detail about our members and our programme.
www.balcarrasteachingschool.com