Music
Welcome
The department has three full time members of staff: Mr Dan Armstrong (Director of music), Matt Howell and Mrs Jane Watts​, (an ABRSM examiner). We currently have nine highly qualified peripatetic instrumental and vocal teachers.
We have two main teaching classrooms and an additional classroom for ensemble and instrumental tuition. The upstairs classroom is used as a performance space, where practical assessments take place and the downstairs classroom houses a suite of 19 student PCs running Sibelius, Cubase and Mixcraft software. Within the department we have 8 practice rooms attached and students can access these for lunch time rehearsals. We foster a lively, collaborative and informative environment where the students can engage fully and creatively in the power of music.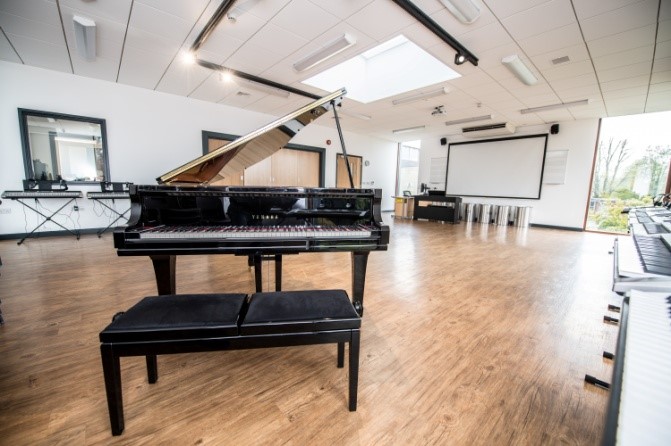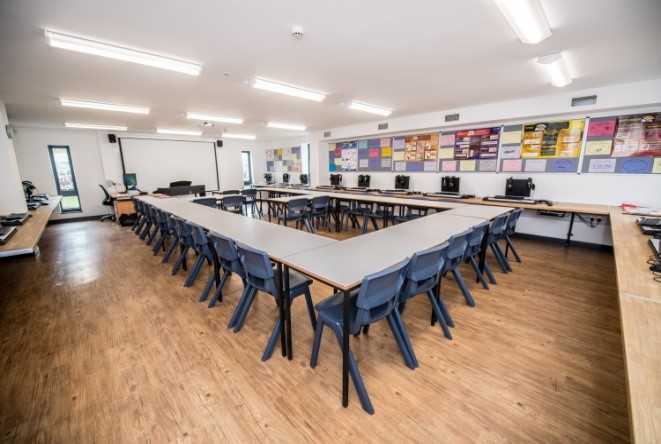 The music department is a thriving and constantly active part of Balcarras School. Our curriculum is inclusive and aimed at developing knowledge and skills for all. Within this framework, pupils feel secure and enabled to develop at their own rate. We use a wide variety of teaching methods and resources, ensuring that students are exposed to a wide variety of styles and genres of music. We offer a breadth of strong extra-curricular groups, open to all ages and abilities. All of our staff have a commitment to excellence and a passion for the subject and actively foster an environment which encourages students to develop a love music of all types.
Curriculum map
Autumn 1

Autumn 2

Spring 1

Spring 2

Summer 1

Summer 2

Year 7

Musical Elements & Notation (MU2)

Body Percussion (MU3)

James Bond! (MU2)

Indonesian Music (MU3)

Melody & Chords (MU2)

Jazzin' About (MU3)

Year 8

Rhythmic Notation (MU2)

Vocalise (MU3)

Indian Music (MU2)

Blues Songs (MU3)

World Music (MU2)

Let's Play Keyboard (MU3)

Year 9

GCSE Experience (MU2)

Variations (MU3)

Dance Music (MU2)

Live Lounge (MU3)

Film Music (MU2

Ensemble Composition (MU3)

Year 10

Musical Forms and Devices

Performance Prep

Composition work

Music for Ensemble

Performance Prep

Composition work

Film Music

Performance Prep

Composition work

Year 11

Popular Music

Performance Prep

Composition work – Set Brief

Revision and Exam Practice

Performance Prep and assessment

Composition work – Free composition

Revision and Exam Practice

Year 12

Harmony and Aural Skills

Composition skills

Performance skills

Area of Study A: (WCT) Development of the Symphony 1750-1830

Jazz 1920-1950

Harmony and Aural Skills

Composition skills

Performance skills

WCT Development of the Symphony 1750-1830

Haydn Symphony No.104 1st movement

Jazz 1920-1950

Harmony and Aural Skills

Composition skills – free composition

Performance skills

WCT Development of the Symphony 1750-1830

Haydn Symphony No.104 2nd movement

Jazz 1920-1950

Year 13

Harmony and Aural Skills

Composition skills – Set Brief composition

Performance skills

WCT Development of the Symphony 1750-1900

Haydn Symphony No.104 3rd movement

Jazz 1920-1950

Into the 20th Century including two set work analysis

Harmony and Aural Skills

Refine compositions for submission

Performance skills

WCT Development of the Symphony 1750-1900

Haydn Symphony No.104 4th movement

Jazz 1920-1950

Into the 20th Century including two set work analysis

Revision and Exam Practice
Key Stage 3
We offer a strong and recently revised KS3 curriculum, where all pupils have access to our outstanding resources. Pupils experience topics from Film Music to Indonesian Gamelan during Year 7, and will gain skills on the piano and with music software. Pupils are encouraged to use conventional notation as well as graphic scores to notate their compositions and to perform from. In Year 8 pupils further their musical understanding of the piano, write their own blues songs and study a variety of different cultures from around the world, exploring music from India and Brazil. Year 9 provides an opportunity for students to develop their performance skills during the 'Live Lounge' extended project, for which students produce a performance of a piece of their choice in an ensemble and present research to the class. Throughout Year 9, pupils continue to develop skills in performing and composition using live instruments and on our computer technology programmes. Students study a wide variety of styles, genres and traditions including Dance Music, Theme and Variations and Popular Music.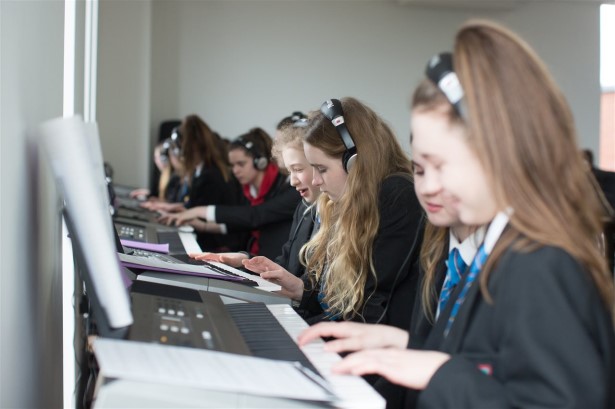 Key Stage 4
The syllabus we follow for GCSE music is the EDUQAS syllabus. Topics covered include Western Classical Music, Popular Music, World Music, Musical Theatre, Fusion and Music for Film. Students perform as soloists and as part of ensembles and compose music in a range of styles using live instruments and music technology.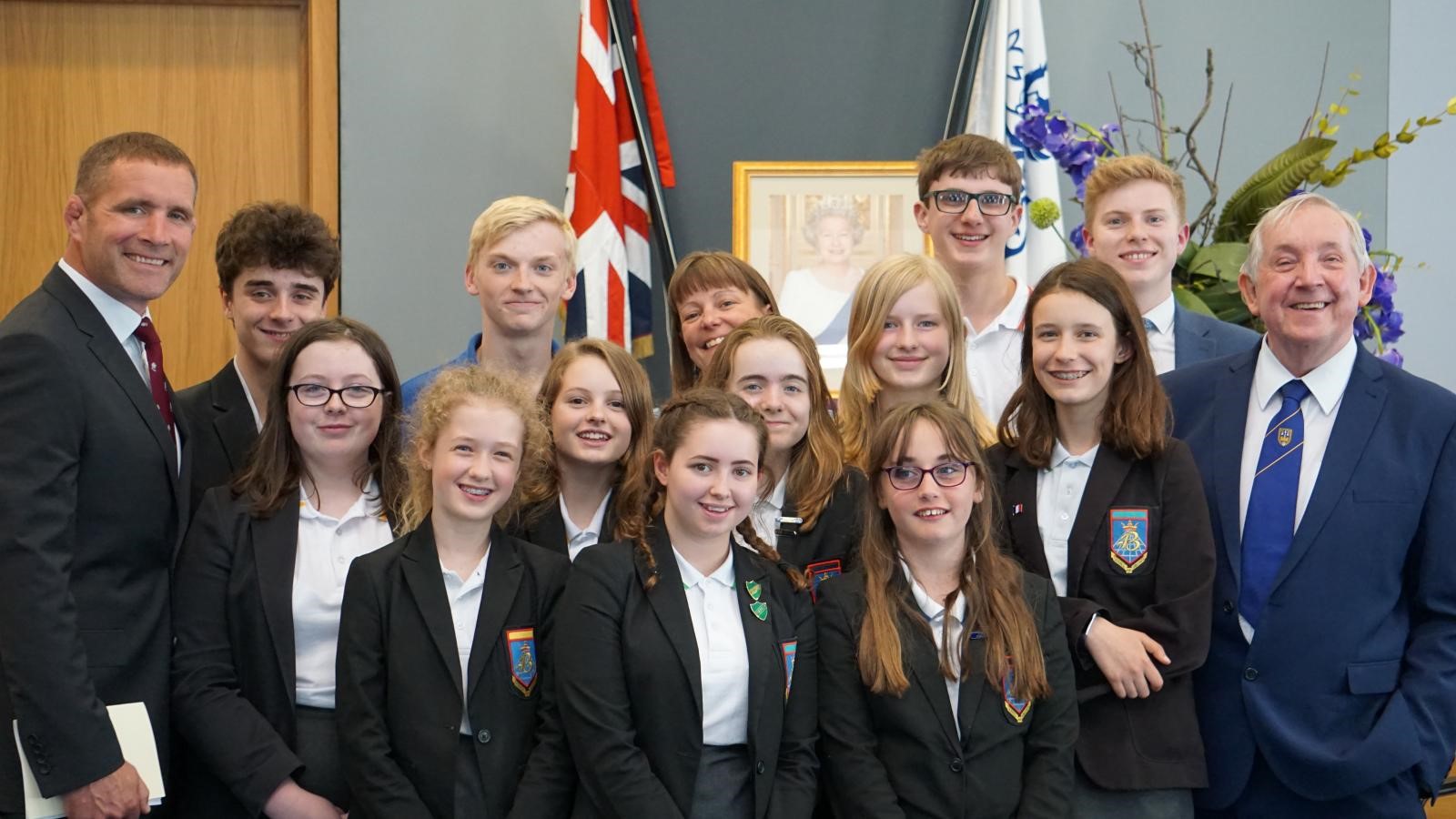 There are a variety of performance opportunities for GCSE students to prepare them for the performance component of the course. These include regular performances at the Chapel Arts Centre, open evenings, governor's dinners and British citizenship ceremonies.
Key Stage 5
At A Level, we follow the EDUQAS syllabus. Often, A Level Music students do go on to study music at university. In recent years, we have had students secure places at prestigious Conservatoires. Students have gone on to study Music, Jazz, Musical Theatre, Sound Technology, Music and Psychology, as well as various non-Music courses at university.
There is a dedicated study room for A Level Music students within the Music Department which includes computers running Sibelius. There are also eight practice rooms, one of which is again dedicated to sixth formers. Both the study room and practice rooms can be used by A Level musicians during Study lessons.
There are lots of opportunities for all sixth formers to get involved in the extracurricular programme, including the possibility of running their own ensembles. Sixth Formers also take responsibility for organising their House's programme, rehearsals, and performances for the House music competition at the start of the academic year.
Examples of Year 13 performances can be found below by clicking on the audio files.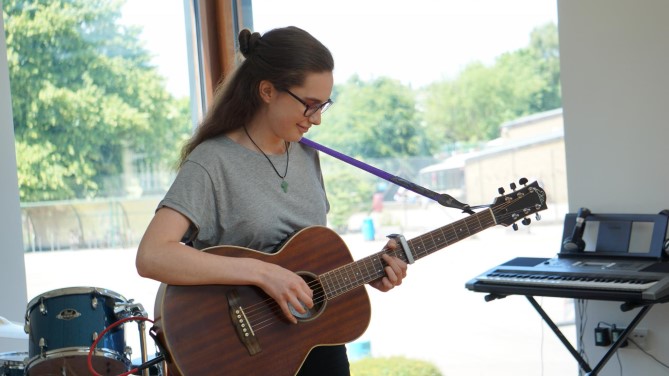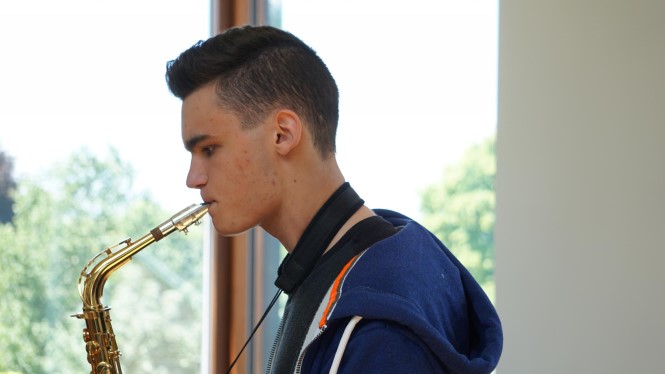 Instrumental Lessons
The school recognises the importance of pupils learning a musical instrument. We have appointed well qualified and experienced instrumental staff offering lessons on all brass, woodwind and string instruments as well as vocal, drum and guitar lessons. Many of our peripatetic staff are involved as specialists in our extra-curricular programme. At present we have around 150 pupils taking individual lessons.
Performance Spotlight
Welcome to Balcarras' Music Performance Spotlight!
We will showcase some of the remarkable talent within our school by sharing performances of students we feel have worked exceptionally hard to hone their abilities.
The first performance featured is from one of our Year 13 students, Issy Winstanley.
Issy joined us in 2017, having studied at Winchcombe school, and has been an incredibly proactive student seeking every performance opportunity available whilst at Balcarras.
She has performed at a variety of different events to name but a few: from performing at open evenings, to busking in Cheltenham town centre, performing at birthday parties and at the Cheltenham Jazz Festival in 2018 and 2019.
If you want to hear more from Issy, be sure to check out her YouTube channel where she regularly uploads original compositions and covers of songs. Click here to see her channel;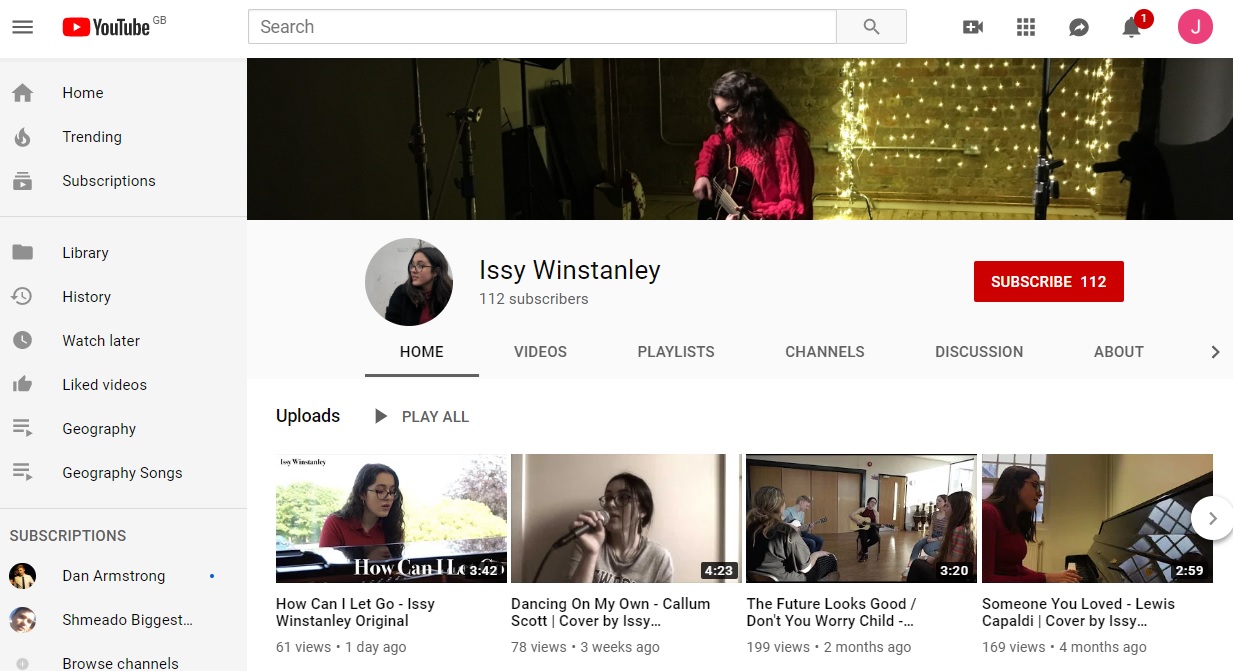 Extracurricular Activities
Balcarras Music Department runs a very lively and wide-ranging extra-curricular programme. Pupils across all year groups are welcome to join our clubs. We have a main school choir and a chamber choir in addition to an all-boys choir. We have an orchestra, flute group, wind ensemble, string group, brass group and music theory club. For those students who are keen on Jazz and Pop styles we also have a soul band, jazz band and saxophone group. The department has eight practice rooms which all have access to keyboards and guitar amplifiers. The practice rooms are used by peripatetic staff but are also available for pupils to book during their lunchtimes for their own self-directed rehearsals.
In 2015 the school won some hub funding which enabled us to record a song under the directorship of a special vocal facilitator. This involved a number of pupils from the school and resulted in a widely-acclaimed music video, filmed at Postlip Barn. To see the film see here
There is a wide-ranging calendar of music events held throughout the year. The Autumn term starts with the ever-popular House Music Festival, which is overseen by the Music Department and organised by members of the Sixth Form, who produce a concert of the musical talents within each House. An external adjudicator who is a professional musician is invited each year to listen to all the concerts and select a winning House according to set criteria. Competition is always fierce and in the past few years we have been lucky enough to have welcomed Dr Warwick Cole professional cellist and organist, Alan McLean, pianist and Suzanne Barnes, flautist and teacher as our adjudicators. Other adjudicators have included the vocal specialist and choral conductor Vicki Beauregard and also Pete Rosser, who is a composer, performer and examiner for the ABRSM. At the end of the Autumn term, there is a major school production and as well as a Carol Concert. Other musical events include concerts for particular year groups and our very popular and family-friendly Midsummer Music Festival.
The school production is a huge event where we work in tandem with the Drama department in staging a major theatrical event. In recent years, these have ranged from a production of The 39 Steps (with specially arranged orchestrations), to full-scale musicals such as Oklahoma!, Beauty and the Beast, Grease, What a Wonderful Life and, in December 2018, City of Angels! The production orchestra always features a wide range of students who demonstrate passion and commitment, many of whom go on to make music their profession or a large part of their adult lives. The show's principals and chorus are also coached and rehearsed by the team from the music department.
Performances Further Afield
From time to time, there are opportunities to attend concerts and shows within Gloucestershire and further afield (for example, London, Bristol and Birmingham). We also had a special tour and concert at The Royal College of Music in November 2015.
Our Choirs have taken part in performances with the Cheltenham Philharmonic Orchestra at the Pittville Pump Room in 2015, 2016 and at Cheltenham Town Hall in 2017.
The Chamber Choir, under Mrs Helen Moran, has had considerable success at the Regional and National Festivals of Music For Youth.
Even further afield, we have had very successful music tours to Barcelona (2014) and Verona in Italy (2013), where over 40 pupils performed in a number of ensembles putting on three concerts, including one right on the edge of Lake Garda with an audience of 250+.
Plans for 2020 include a music tour to Holland where we will be taking Years 7 – 13 to perform at a variety of different venues alongside various excursions.
In summary
The Balcarras Music Department is a thriving creative hub and welcomes all students at whatever stage of their musical journey, whether as part of the core curriculum, as an exam subject or as part of the rich tapestry of extra-curricular opportunities on offer here.