Fundraising
The Story so far…
We are so fortunate to benefit from such an amazing level of parental contributions to the finances of the school. The big squeeze on government funding happened a few years ago and we are very grateful to those who have contributed to funding the school so that we have got through it…so far!
175 families give a monthly standing order to the school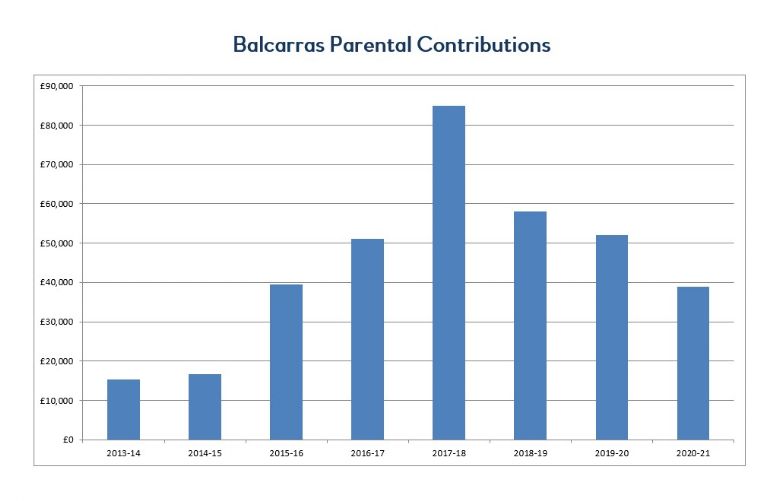 Please would you consider?
Writing to Alex Chalk, or your local M.P. to explain your opinions.
Target for 2021-2022
The latest forecast from the Department for Education tells us to expect a marginally higher budget next year after inflation. The £5000 minimum funding level will help. However, while one hand gives, the other one taketh away. Funding for special educational needs has been slashed, and covid-19 has caused many extra costs for cleaning and IT provision.
We have a particularly exciting building project on the drawing board in 2021-2022 for which we hope to raise £100,000!
So what's the story?
These are challenging times for schools. We want Balcarras to be one of the best schools in the country and we know that it is crucial that we continue to invest in the school's infrastructure.
The budget that we are given from central government allows for £26000 for capital investment – a tiny amount. This year we have ambitious plans to improve the school environment for everyone. This project will provide a lovely multi-use area near the back gate of the school.
The generous donations from our parents mean that we are able to continue to develop the school in ways that directly benefit the students.
This project will provide:
An enhanced green space for use in all-weather at break and lunchtimes
An amphitheatre for use in lessons and at break or lunchtimes
A 'Pergola'
An improved bike shed
Please see the plans below: