Sixth formers win District football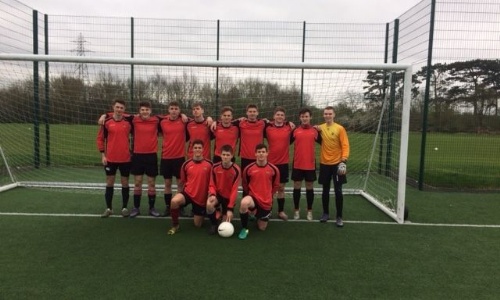 Three teams make it through to District finals for football
Football news
The sixth form team have won the district finals and are district champions. Having beaten Tewkesbury School in the semi finals, they faced Pates in the final. This match was won convincingly 4-1. Congratulations to everyone that played.
s
The sixth form team with joint captains Joe Hughes (centre bottom row) and Adam Parkes (far left top row), who organised team training and selection this year.
Three teams through to the district football finals!!
Congratulations to the Year 8, Year 11 and Sixth Form teams who have all made it through to the district football finals this year make it our most successful season in over 10 years!!
Year 8 football team beat Tewkesbury, Pitville and All Saints as well as drawing 1-1 with Cleeve School. In the process they scored 29 goals and conceded just 5. They then went on to beat Chosen Hill in the semi-final 4-2. Bournside School await them in the final.
Year 11 football team also through to the district finals against reigning District and County champions Chosen Hill after beating Prince Henry's and Tewkesbury in the group stages. This is the first time this group of boys have managed to get into the semi-final so to make it through to the final is a real achievement. Well Done!
The sixth form team made it through to the district final coming second in the group stage but then went on to beat Tewkesbury 1-0 in the semi-final with the last kick of the game and will now face Pates in the final after the Easter holidays.
Well done to all of the boys and good luck to you all in the finals
The Year 8 football team captained by Matthew Kear (second left, bottom row) ahead of their semi-final win over Chosen Hill.
The Year 11 team with captain Patrick Kavanagh-Shield centre bottom row.