District Athletics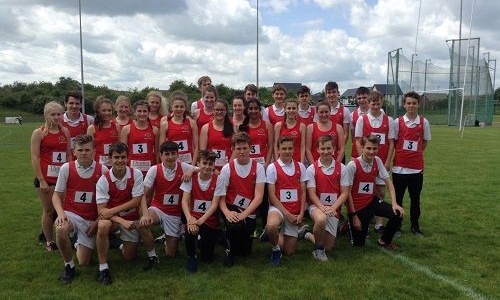 Success at District Atheletics for Balcarras pupils
District Athletes
Congratulations to Katie Castle Year 9 ( 100m and Long Jump), Lily Carpenter (Shot), Ben Williams Year 13 (3000m), George Bygrave Year 13 (800m), Oliver Powell Year 11 (1500m) and Ben Powell (1500m) who have all been asked to compete for Cheltenham District in the County Athletics Championships on June 10th at the Prince of Wales Stadium. Good luck with your attempts to get into the County Squads.
Well done also to Daisy Hall Year 8 (800m), Esme Lea Year 9 (100m), Matthew Dwerryhouse Year 11 (1500m), Tom French Year 10 (1500m), Chis Picken Year 10 (Javelin), Luke Burden Year 9 (Discus) and Arthur French Year 8 (200m) who competed at the district trials but did not make it through this year despite some fantastic performances.
Cheltenham and District Athletics Championships
On Wednesday 7th June, our Year 9 Girls and Boys Athletics teams competed at the Prince of Wales Stadium, in the District Athletics Competition. Amazingly, the girls' team won and are now the 2017 District Champions! The boys also did extremely well coming 2nd overall. These are our best ever results at this competition. The pupils who competed put in some excellent performances and really were a credit to the school! If you would like to see photos/videos of our competitors, please follow the PE department on twitter (BalcarrasPE).
Year 9 Girls Team – Katie Castle, Esme Lea, Genevieve Hasleden, Esme Sullivan, Gemma Veal, Sophie Johnson, Sian Wiggins, Ella Banbury, Lily Carpenter, Karissa Patel, Maisie Carpenter, Kate O'Toole and Amelia Mortimer.
Year 9 Boys Team - Joe Efthymiou, Matty Alberquerque, Cameron Lewis, Edward Burgess, Zak Long, Jacob Harris, Olivier Mathis, Jack Park, Gus Bygrave, Alex Veal, Aarran Baxter, Luke Burden, Henry Perks, Max Hemming, Will Cook, Freddie Wolfe and Joseph Harvey (G1).
Overall Results
Year 9 Girls – 1st Place
Year 9 Boys – 2nd Place
1st Place Winners
Gemma Veal – 800m
Katie Castle – 100m (New Record – 13.01 seconds) and Long Jump
Matias Albuquerque – 100m
Alex Veal – 1500m B
Lily Carpenter – Shot Putt
Luke Burden – Discus (New Personal Best)
Sian Wiggins – High Jump (New Personal Best)