Lean, green and digital tour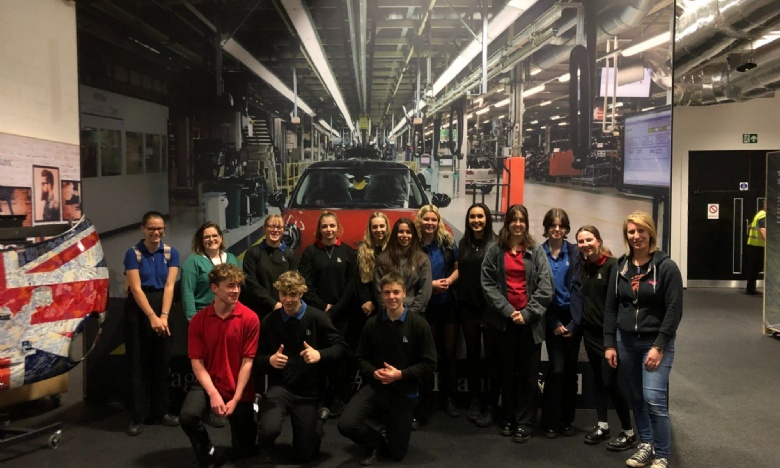 The Y12 D&T students had a tour of the BMW Mini Plant in Oxford
Perhaps one of the most frustrating things about COVID, from a subject perspective, was the cancellation of all trips, as they can so often bring a topic to life. And there could be no better example of this than the recent Y12 trips to the BMW factory in Oxford where the Mini is now made [with so many students currently studying A Level Product Design, and the demand for slots, the trips had to be staggered over a couple of weeks].
Post-lockdown, BMW rebuilt their visitor centre and the new version of the tour, which started last autumn, proved to be hugely impressive. Lasting 100 minutes, there can't be many trips offering better value in terms of making some of the A Level manufacturing theory topics [such as just-in-time, flexible manufacturing systems and quality control] more engaging, exciting and understandable.
They have been building cars on the site, starting with the Morris brand, for over 100 years, although after BMW have invested more than a billion pounds over the last decade, it now looks and feels very much like a factory at the cutting-edge of manufacturing. This feeling is reinforced when you walk through the doors at the first stop: the 'body-in-white' building [named because at that stage all the components are yet to be painted and the protective galvanising makes them look 'white'], where we came face-to-face with few people but over 1200 robots. Seeing a car chassis being picked up as though it weighs nothing, twirled around in the air and then welded all in a matter of seconds - and all only a few metres away from where you are standing [albeit behind some hefty barriers] - makes it very hard not to be impressed!
The second part of the trip takes you to the final assembly which is still very labour intensive. Although as every single car going through the factory, over a 1000 a day, is now made to order and is therefore fully bespoke [and will eventually be shipped all over the world], the range of parts that suddenly appear ready to be attached, descending from one of the two huge mezzanine floors above, is still amazing to see.
The only frustrating thing about the day? That would be the no-photo rule [everyone was required to hand over their mobile phones in advance - industrial espionage is apparently still very much a concern] meaning that there are no fascinating shots from the production line itself that would have been the basis for future lessons. Instead, we will have to rely on the great James May documentary that was filmed there a few years ago. Until next year of course, as the plan is for this trip to now become an established part of the Y12 D&T program.