BRILLIANT BALCAJAZZ GIVE BARNSTORMING PERFORMANCE AT CHELTEHAM JAZZ FESTIVAL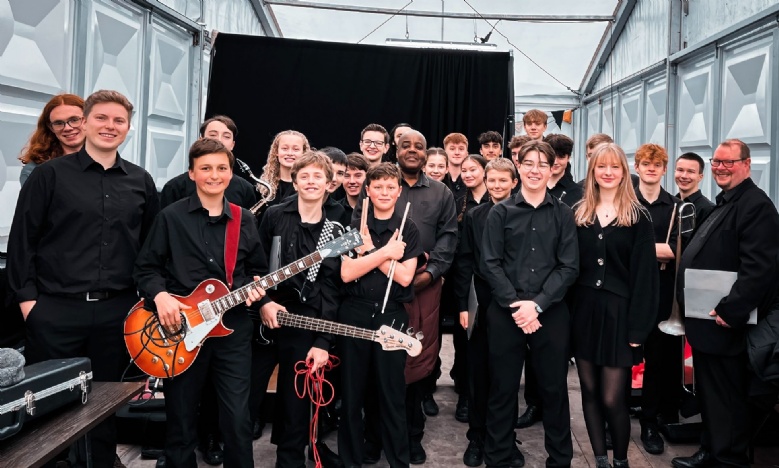 On Sunday 3oth April the Balcarras Jazz Band, Balcajazz, performed to a packed house at the Cheltenham Jazz Festival. They performed as part of School Jazz on the Free Stage and their 30 minute set included three pieces: Pick up the Pieces, Redbone and Well Run Dry. The quality of the music was just superb and there was a rapturous applause at the end. Balcajazz are ably led by Mr Dan Armstrong (Head of Music) and he was assisted by Mr Nathan King (trombone) and Mr George Douglass (guitar). Balcajazz is made up of some 22 musicians ranging from Year 7 to Year 13. They were comfortably the largest of all the school bands taking part and everyone involved is listed below.
Well done to them all.
Matthew Arraya, 11S1-Flute, India Hung, 10F1-Flute, Darcey Hacker , 10O1-Flute,
Annie Wood, 9F1-Alto Sax, Jim Chappell-Smith, 12A-Alto Sax, Seb Holland, 9F1-Clarinet,
Lewis Adkins, 10S1-Clarinet, Isaac Costa-Hall, 9F1-Tenor Sax, Matthew Chestney, 12D -Trumpet,
Ben Carroll, 10S2 -Trumpet, Matthew Fawcett, 11O2-Trumpet, George Batch, 7F1-Trumpet,
Tom Carroll, 8S1-Trombone, Felix Frith, 12M-Piano, Alex Davies, 8S1-Guitar,
Isaac Buttle, 12D-Guitar, Nathaniel Swift, 11G2-Drums, Eddie Atkins, 9O1-Drums
Kit Greenall, 9S1-Bass, Barney Vacher, 11G2-Bass, Caleb Horne, 13C-Vocals
Rachel Kimber, 13B-Vocals