Balcarras gathers to remember Her Majesty Queen Elizabeth II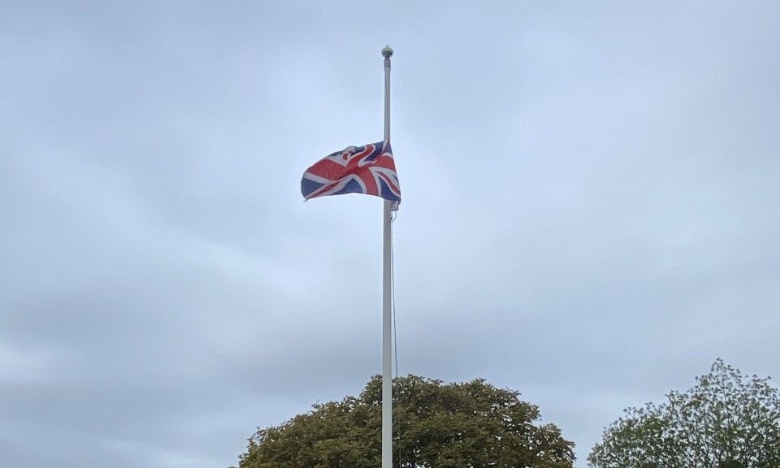 Today the whole school gathered around the flagpole at 10.45 to pay our respects to Her Majesty Queen Elizabeth II. Mr Burke gave a short speech before the whole school observed a minute silence.
A copy of Mr Burke's speech is below.
We gather as a school community to pay our respects to Her Majesty Queen Elizabeth II who died yesterday at the age of 96. The Union flag is flying at half-mast and will do so until after Her Majesty's funeral.
Queen Elizabeth was born in 1926. She came to the throne on the death of her father King George VI on the 6th of February 1952. She reigned for 70 years and 214 days which is the longest reign in British history. Such longevity is remarkable. She has been Head of State for over 70 years and has presided over enormous changes to our society. Her first Prime Minister was Winston Churchill a man who was born in 1874. Her 15th and last Prime Minister was Elizabeth Truss who was born in 1975. The Queen reigned for so long that in a way she embodied the very idea of monarchy which is to root a society in its history and traditions.
As the country begins a period of mourning no doubt this great longevity will feature in people's minds because there won't be many people who remember a time when Queen Elizabeth wasn't the monarch. So in the next 10 days you are about to live through a moment of history, not since 1952 has the crown passed from one monarch to the next.
Over the next 10 days the country will pay is respects and, although the length of the Queen's reign is remarkable, much of the comment will focus on the nature and character of Queen Elizabeth.
This school opened on this site in 1957, 5 years into the Queen's reign. The motto chosen for the school, and the motto we retain on your blazer badge to this day, was "Service and Sincerity" Two words that could easily be used to describe how Queen Elizabeth has approached the job she was born to do.
In the Queen's Christmas broadcast of 1957 she said the following: "I cannot lead you into battle. I do not give you laws or administer justice but I can do something else: I give you my heart and my devotion to these old islands, and to all the peoples of our brotherhood of nations"
The Queen has shown incredible devotion to service and duty working as Head of State right to the very end of her life. The first prominent speech that Her Majesty made was in 1947, five years before she became Queen, on the occasion of her 21st birthday. She said: "This is a happy day for me; but it is also one that brings serious thoughts, thoughts of life looming ahead with all its challenges and with all its opportunity….I declare before you all that my whole life whether it be long or short shall be devoted to your service."
She made that pledge 75 years ago. I think we can safely say that she kept her promise.
Now we will have a moment of silence.