How do you get to school?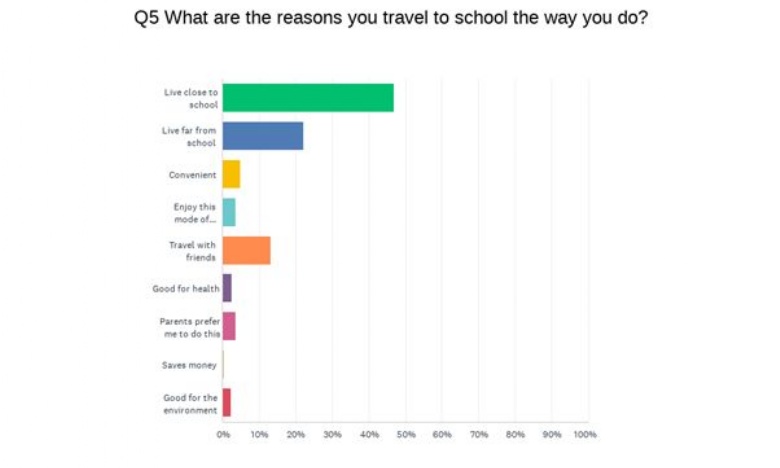 We have conducted an extensive survey on how pupils get to school. We had 757 respondents to this survey out of 1400 pupils in school.
The majority of pupils who come to school at Balcarras Walk to school (73%), this makes our school sustainable in terms of the impact we have when you consider travel. Nationally less than 50% of pupils walk to school.
A further 6% of pupils travel on a bike to school. This is higher than the national average of 5% for a school. This is due in part to the nature of our catchment area and how close pupils live to school.
Only 15% of pupils who answered travel to school by car, this tended to either be every day, or just once a week.
In terms of why people choose how they travel to school, the most people said that distance to school was the biggest factor. We are lucky that the school has a small catchment area, and most people live close by. However, the next most popular reason was that pupils like to travel with their friends. The reasons that would cause people to change how they get to school is either the weather, or 'other' factors. Or the fact they have too many things to carry. The average petrol car on the road in the UK produces the equivalent of 180g of CO2 for every kilometre, while a diesel car produces 173g of CO2/km. the larger the car the more the emissions.
When looking at things that would encourage pupils to cycle to school, the best things include having a friend to cycle with, 'other reasons' and having safe cycle lanes.
According to a report on the BBC In countries like the UK and the US, the transport sector is now responsible for emitting more greenhouse gases than any other, including electricity production and agriculture. Globally, transport accounts for around a quarter of CO2 emissions.
At a time when we are trying to reduce are carbon emisions thinking about the journeys we take and using alternatives such as walking to cycling to school lessens our impact on the environment. This is a great example of a positive step we can take to reduce our emissions.
To see the full survey see the attachment below
To access the BBC article on school travel click here