Remembrance Service at Balcarras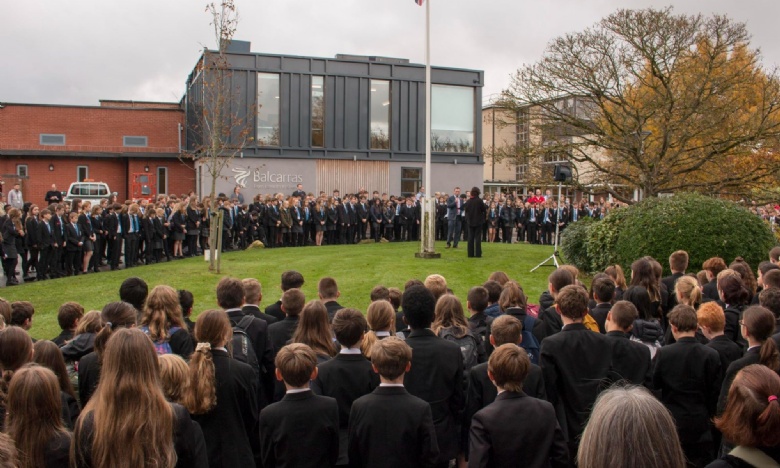 On Thursday 11th November we held our annual remembrance ceremony around the flagpole. Students from Year 7 to Year 11 attended, whilst the other year groups observed a minute silence in their lessons.
At the ceremony Mr Burke said a few words before Katie Lerescu (Year 12) played the Last Post which began a two minutes silence. A copy of Mr Burke's speech is below.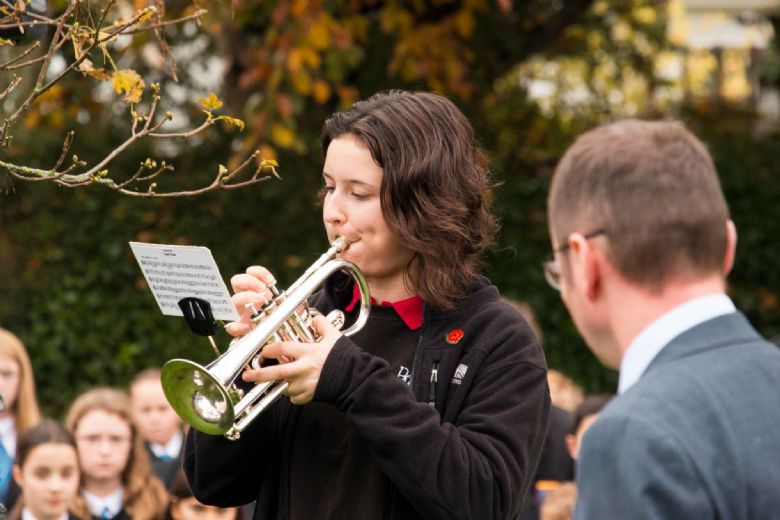 103 years ago almost to the minute the guns fell silent on the Western Front and the Great War came to an end. Today is Remembrance Day. Ever since 1919 we have gathered in ceremonies like this one to remember those who gave their lives in that terrible conflict and in wars since.
We remember people like Private Lewis Williams who grew up on Horsefair Street just a stone's throw from here. He had joined the Gloucestershire Regiment in 1915 and had seen action during many battles. He died on the very last day of the war—November 11th 1918….103 years ago.
His two brothers Frank and Frederick had died earlier in the war as did his brother-in-law James Jeffery. All four grew up in this village. They almost certainly attended Charlton Kings Boys School which was the forerunner to Balcarras and all 4 of them are commemorated on the Charlton Kings War Memorial which is opposite St Mary's
Imagine the loss involved for that family. Imagine the mother who had to live on in a house in Church Street without her three sons.
It reminds me of the famous story of a woman in the American Civil War of 1861-65 who lost all of her five sons during the conflict. At the time President Lincoln wrote her a letter which is really beautiful and contains the following line:
I pray that our Heavenly Father may assuage the anguish of your bereavement, and leave you only the cherished memory of the loved and lost, and the solemn pride that must be yours to have laid so costly a sacrifice upon the altar of Freedom.
Really lovely words. I wonder what words were used to comfort Mrs Williams on Church Street.
Whatever they were they will not have been sufficient.
Today we remember the tragedy of war—the terrible suffering that it involves and as we remember we resolve to live in a world where human beings respect one another and never seek to resolve their differences by violence.
Now Katie will play the last post. And then we will stand in silence before we then finish this ceremony with the reveille.