Balcarras Bake Off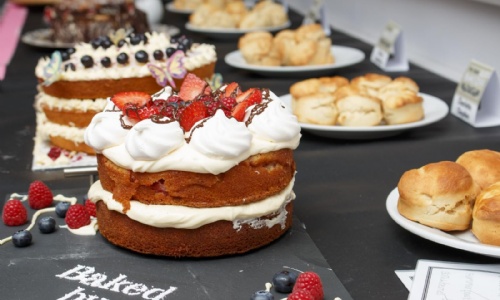 Balcarras Bake Off competition heats up
As temperatures soared across the UK, the heat was on in the kitchen for this year's final of the Balcarras Bake Off competition. As always, the pupils in year 9 have risen magnificently to the challenges of the qualifying rounds throughout the year, with 12 talented chefs baking their way to the nerve wracking climax of the competition.
The final "Bake off" took on a new format this year, with pupils not only having to cook something to fulfil the brief of incorporating fruit and/or vegetables into their baked product but also coping with an unseen technical challenge, only revealed to them 2 minutes before the start of the 2 hour cooking session.
Our cooks remained undaunted at the challenge of making a perfect batch of 8 scones and skilfully chopped, stirred, whisked, beat , piped and decorated their way through sweltering temperatures to finally produce a mouth-watering array of cakes, pastries, cookies and scones, all of which looked absolutely amazing.
Mr Burke and Mr Lolley had the difficult, but enjoyable task of deciding who should be our winners this year but after much deliberation and chomping of cake, the following pupils were named as the 2017 winners
1st - Genevieve Haseldon 9G1
2nd Libby Watkins 9F2
3rd Blake Penwarden 9O1
Well done to all who made it in to the finals and to all of year 9 for entering into the spirit of the competition with such enthusiasm. The TV Bake off may have gone to Channel 4 but we will be back next year!
Mrs Cozens