Tony Bennett wins Pearson Life Time Achievement Award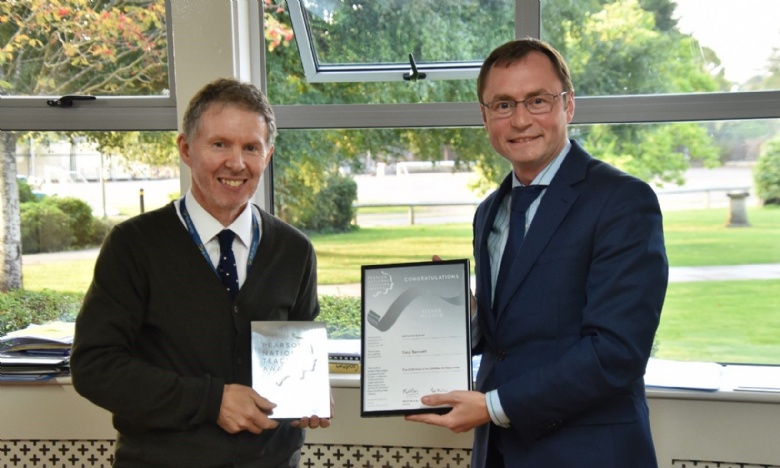 On Wednesday it was announced that our Head of Drama, Tony Bennett, has won a Silver Pearson Teaching Award in the Lifetime Achievement Category.
Mr Bennett was nominated for the award before lockdown and only learnt of his success a few weeks ago. We were under strict embargo not to announce it until Wednesday.
A whole range of staff, students, former students and parents wrote testimonials in support of the nomination and the judging panel, chaired by Sir Alan Steer, were hugely impressed by everything that they heard about Mr Bennett.
I presented Mr Bennett with the award at the end of the staff INSET which was held on teams on Wednesday night. Afterwards we had a small reception in the hall. Ordinarily we would have had a major celebration involving the whole staff, governors, students and former staff but it just wasn't possible under these circumstances.
The moment of the announcement.
Mr Bennett now goes forward to the national awards ceremony hosted by the BBC. If he doesn't win, the actual winner will be a truly remarkable person.
Mr Bennett is very modest and when he was presented with the award he was at pains to point out that it was the result of a team effort and a vast collaboration. He is right but that's the point. Tony is very much the embodiment of what we believe about comprehensive education.....everybody deserves a chance, each young person has value and worth and people succeed best when they collaborate and encourage one another. It is the job of teachers to facilitate this and nobody does it better than Mr Bennett.
Well done to him.