Balcarras YE are South West Champions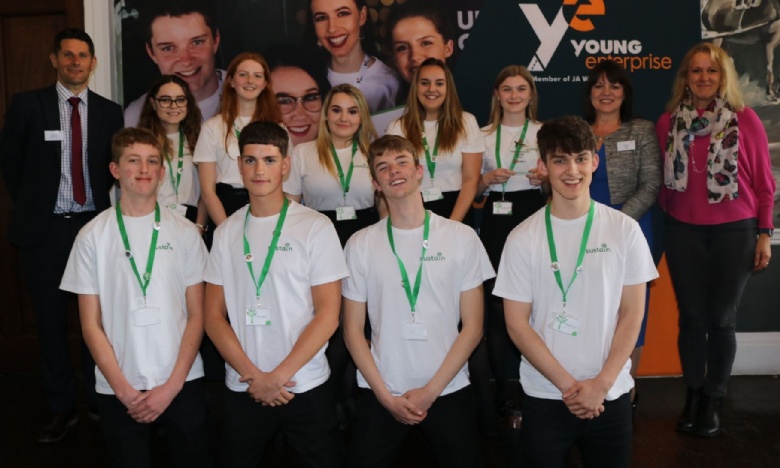 STUDENTS FROM BALCARRAS SCHOOL CROWNED SOUTH WEST BEST COMPANY AT YOUNG ENTERPRISE REGIONAL FINAL
Students from Balcarras School, Gloucestershire have been crowned Best Overall Company at the South West Young Enterprise Regional Final. The final, held at Kings Weston House, Bristol on 9 May 2019, celebrated students who have set up and run a company over the academic year as part of the Young Enterprise Company Programme, supported nationally by HSBC UK.
Seven teams from the South West competed across eight categories – Creativity, Sustainability, Best Presentation, Customer Service, Innovation, Financial Management, Marketing and Teamwork– with a prize for each. The winning team, Sustain from Balcarras School, will go on to represent the South West at the UK Company of the Year final in London on 18th June and could potentially represent the UK in the JA European final.
Young Enterprise is a national charity which works to equip young people with the skills, knowledge and confidence they need to succeed in the changing world of work. This year, students across the country have set up almost 1,000 companies over the academic year, making all the decisions about their business, from deciding the company name and product, to creating a business plan, managing their finances and selling their products.
The winning team, Sustain created and sold a children's activity book and app. Sustain Managing Directors Edward Harris and Georgina Hopwood said to win the South West YE Final was "absolutely amazing!". One of the best experiences of their YE learning journey was meeting Cheltenham MP Alex Chalk who was interested in their book's environmental theme. Edward said: "To have someone from Parliament interested in what we were doing was really inspiring. Everyone has worked really hard and we have had lots of ups and downs. This experience has really given us direction. I have gained hugely in leadership skills and the rest of my team have also gained other new skills and benefitted enormously. We are now really looking forward to going to the national final."
The companies were judged by Rob Carter, Sarah Lucas (HSBC), Andrew Sandiford (Bishop Fleming) and Suzy Wright (Careers and Enterprise Company).
Young Enterprise is a national charity that motivates young people to succeed in the changing world of work by equipping them with the work skills, knowledge and confidence they need.
· Every year they work with 315,000 young people, and train 3,200 teachers in both enterprise and financial education, with the help of more than 6,000 volunteers and 3,500 businesses.
· 94% of Young Enterprise Company Programme alumni are in an Education, Employment or Training destination - 5% higher than the national average.
· Founded in 1962, Young Enterprise is part of global network JA-YE operating in 120 countries.
· Junior Achievement Worldwide (JA), one of the world's largest global non-profit youth organisations, is celebrating its centenary in 2019.