Balcarras Carol concert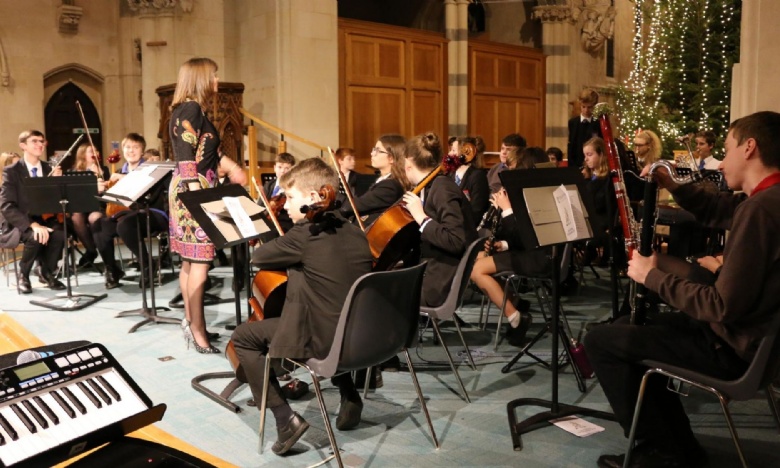 On Wednesday 5th December, the annual Balcarras Carol Service took place in Holy Apostles Church on London Road. The evening was a hugely varied array of musical items, interspersed with readings and congregational carols. We had everything from SamBalca with their very own unique Christmas Samba through to some far more traditional and moving vocal items from the Chamber Choir, Cantabile and the Sixth Form collaboration. As people arrived, a wind quartet played carols to set the scene. Then followed performances from all of our school ensembles: Balcajazz, Chamber Choir, Choir, Staff Choir, Cantabile, Boys Singers, SamBalca, Sixth Form collaboration, Orchestra, Flute Ensemble, Wind Sextet, Brass Group and String Group.
There were two collaborations: a performance of Eric Whitacre's Glow involving the String Group, Chamber Choir, Cantabile and some additional male staff voices! The evening finished with Snyder's Holiday Singalong which gave the orchestra a chance to accompany all the other student and staff performers, and the congregation, singing well known favourites such as Deck the Halls, Jingle Bells and, of course, We Wish You a Merry Christmas! There were too many outstanding individual and group performances to give them all the full recognition they deserve. It is always wonderful to see students from across the school, less experienced musicians working alongside those who were there for the seventh consecutive year and everyone in-between, working together in such a creative, positive manner, and really enjoying the experience too. A huge congratulations to all those who took part and a massive thank you to all those who made the event possible.
To see more photos of the event click here
Mrs Chong