Malaga Trip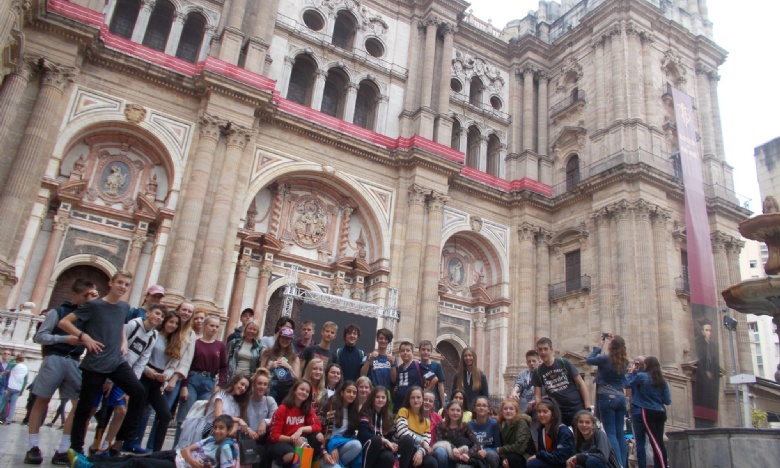 The Malaga trip (October 2018)
We left school at 3:00 for the airport on Friday 19th October. We had a long busy day of travelling, Then finally at 10:15ish (11:15 Spanish time) we arrived in the beautiful city of Malaga. We were ali tired, so we were introduced to our Spanish families. My Spanish host was so bubbly and made us feel at home in no time.
The next day all the year 9s were taken for a tour of Malaga, whilst the year IOS and IIS attended language classes at Lexis School. We learned about food and how to ask for it then we were taken to the food market, which was filled with fresh fruit, bread, fish and other foods. It was really interesting to watch the people, for instance there were crowds of locals, tourists and even protests going on it was extremely busy. After the Spanish lessons and visiting the marked, we then went to a restaurant for a deserved meal. The Tapas we had there was truly delicious and all the food appealed to us all. We had some time to walk around the City and shops then went back to our families.
After a successful day in the City, the next day we woke up early to welcoming breakfasts made by our Spanish hosts. Then after this, all packed up, with food, and ready to set off, we went to Granada and the Alhambra Palace. It was beautiful and picturesque, we all took lots of brilliant photos. But then, we had a tiring walk up to the top of the Bib Rambla square, it was worth the amazing sights though. We had some free time to explore the precious ancient place.
Blown away by the amazing sights KS4 had to wake up to another day of lessons at Lexis whilst KS3 were taught the Flamenco dance. The lessons were actually quite fun and we were taught given pictures and memory work instead of written work which gave us more chance to improve our pronunciation and vocabulary. During the lessons, the year 9s had a visit to Larios shopping centre. After the lessons were finished, we received our certificates from Lexis School. For lunch we had to choose the un healthy option just for one day so we either went to Burger Star or KFC. The highlight of this day was definitely when we strolled to the beach and spent a relaxing two hours sun-bathing on the sand. Obviously, boys being boys decided to play football in the heat! After the beach we went to a bar to try the local tasty Chocolate con churros. That evening we went to a restaurant all together to have Pizza.
Lastly, we woke up early to have some time to pack. We walked to a local secondary school and talked to the Spanish students, it was quite interesting. Their English was very good! For lunch we went to the market, we had to order our own food which was fun and it was a great picnic especially the cheese which personally I loved! We also went to a beautiful sheltered park to eat it. Then, we had å last day of plenty of free time to browse and buy souvenirs and gifts along the harbour and in the City centre. During this time, we did ice cream tasting. We went back to the hotel or families to collect our suitcases and to give them all our thanks for our pleasurable stay in Malaga. We had to travel back during the night and arrived back at Balcarras at 3:00am we were all shattered because of the journey.
The Trip was a successful, enjoyable, exiting journey that brought loads of us together meet new people and we all got a long together and had an amazing fun time. I wish we could go back, mostly because of the weather!
To see more photos of the event see here
By Gabriella Mazzocchi