Advice Year 7 2020
This page contains information for the parents of pupils due to start at Balcarras in September 2020.
Please watch the welcome video from Mr Burke.
Year 6 Parents' Evening
As we have not been able to hold the usual introductory parents evening this year, we feel it is useful for you to have the information from this. So we have recorded the parents evening as it would have happened. This includes a talk from Mr Burke, as well as other staff. It is also an opportunity for you to meet your child's tutor and Head of House.
Year 6 Tutor talk
Mrs Saunders presents the talk that tutors would have given to parents during parents evening.
Meet your Head Of House and Tutor
Each of the Heads of House and tutors have done a short presentation introducing themselves.
Miss Niblett - Head of Selvey House
Mrs Corinaldi - Head of Foley House
Mrs Winterbottom - Head of Graveney
Mr Amor - Head of Ottewell House
Year 6 - Getting to know Balcarras
Tour of Balcarras School
Two of our current Year 7 intake - Lola and Martha show you around Balcarras and share information on the school.
Advice for Year 6s from Mrs Saunders
Normally during this time we would visit you in Primary School. During this visit we would have shared lots of information with you, so we have put together a presentation explaining all you need to know.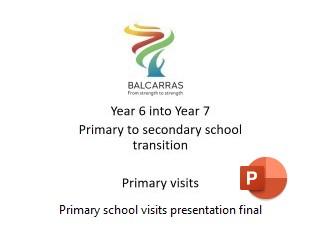 ***Please note this is a large file so it is not recommended to be opened on mobile devices***
Please click on the link below to download it:
/_site/data/files/documents/primary_visits/presentation.ppsx
Filmed last year on the first day of school in September for our current Year 7. Find out how your first day at Balcarras will be.
Helping your child become secondary ready
Please watch this introductory video for parents from Mrs Saunders, Teacher in charge of transition to Year 7.
Secondary Ready Meeting Information
Part 1 - Introduction – outlining relationship skills, making friends, meeting new people and being an inclusive school
Part 2 - The importance of sleep and social media use
Part 3 - Sharing ideas to develop resilience skills in our child
Part 4 - The role of the tutor and supporting your child at home
Part 5 - What parents can do next to support their child
Are you secondary school ready? - BBC Bitesize

Secondary school can be very different to primary school, so it's good to be prepared for the change. Take this quick quiz to find out how to get ready. JavaScript is required to view this activity.

www.bbc.co.uk
School Uniform Update & Knowing which House your child is in
Your child will receive a letter at the end of June / early July which will inform them which tutor group and house they are in. At the moment the only part of the uniform that will need to be in House colours, is the school badge, These are not only available from our uniform suppliers but are also available directly from Balcarras School (through reception).
Click here for a full school uniform list.
Boys will need a house colour rugby top for PE - these will be available from school - more details about PE kit will follow.
PE Kit
We will update you on PE kit shortly.
We have been in touch with our two uniform suppliers:
School Togs
We have received the following from School Togs:
Over the last two months we have worked tirelessly to overhaul our operational procedures to enable our teams to return to work safely. We know this Back to School will be very challenging and we are focused on delivering parent and student safety while ensuring we service everyone.
We have made our stores Covid-19 Secure and plan to reopen the Cheltenham store on Monday 22nd June using a new personalised booking system for new starters which will go live on our website from FRIDAY 5TH JUNE.
Please click here for the plan for parents purchasing uniform. Click here for a list of school uniform with prices.
Universal Uniform
We have received the following from Universal Uniform:
We are delighted to be able to tell you that after a period of lock down, our online shop is now open and orders are being processed once again. We have been using the period of closure to plan ahead for the back-to-school season so that we can make what will be a very different experience for everyone, as hassle free as possible.
It is our priority this year to ensure that we adhere to government guidelines, keeping both staff and customers safe during the back to school shopping season, whilst still providing the outstanding service that we pride ourselves on. We are confident that our systems are well placed to deal with the shift to predominantly online sales. We will continue to the review the situation and will reopen the shop, if and when government guidelines allow, on an appointment only basis.
There is a possibility that the pandemic will have negatively impacted the supply chain in our industry so we would strongly advise that parents shop early this year to avoid delays in acquiring their uniform nearer to September.
Click here for information about Universal Uniform.