Results
Exam Results 2016
A Level Results
With yet another strong year in performance at A-level, this year we saw a rise in students gaining a place at university and in some cases exceed these entry requirements. With 63% of all grades at A-level between A*-B and 87.5% A*-C there was much cause for celebration in the sixth form common room.
For the second year running we were judged as being in the top 25% of schools nationally for Value Added and as always we are keen to further improve upon this.
Of those applying to university 50% entered Russell group universities and 1 gained a place at Oxbridge. There was also 2 Vets and 1 medicine student in the cohort this year.
Special recognition must go to the large number of students gaining an A*:
GCSE Results
The performance measures for secondary schools changed this year with the progress pupils have made during their time at the school now being the key figure reported. We are delighted that this progress 8 figure for Balcarras School is 0.63 the highest of any school in Gloucestershire (both grammars and comprehensives) and in the top 5% of schools nationally.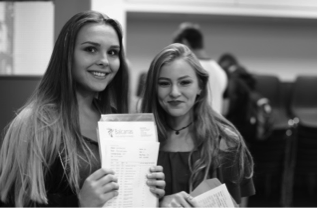 Students of all abilities made excellent progress. Our students with high attainment at Key Stage 2 achieved a progress 8 of 0.57 which is higher than the overall score for any local school comprehensive or grammar. Students with low attainment at Key Stage 2 made the biggest progress with a score of 0.81 a credit to the efforts of both students and teachers.
The Performance Measures for Balcarras are as follows:
Progress 8: 0.63
Attainment 8: 60.6
Grade C or higher in English and Maths 84%
Achieving the English Baccalaureate 60%
We were delighted with our GCSE results and would like to congratulate all of our students. As a year group they achieved 78% 5 A*-C including English and maths. This is amongst the highest for any comprehensive in Gloucestershire and a reflection of the pupils hard work and effort. 37% of students achieved 5A*/A and 60% of students achieved the EBACC which is our best ever result for this performance measure and likely to be one of the highest figures nationally.
It seems wrong to pick out individuals when so many of our students deserve congratulation but there were some truly outstanding performances that do deserve special mention.
Holly Van Ryssen gained an exceptional 10A*s making her one of school's all-time top achievers. Annalise Langdon gained 9A*s and 2 As. Alexander Goodhead, Charlie Goulbourne, Elizabeth Oates and Charlotte Ravenscroft can all boast of 9A*s and 1A.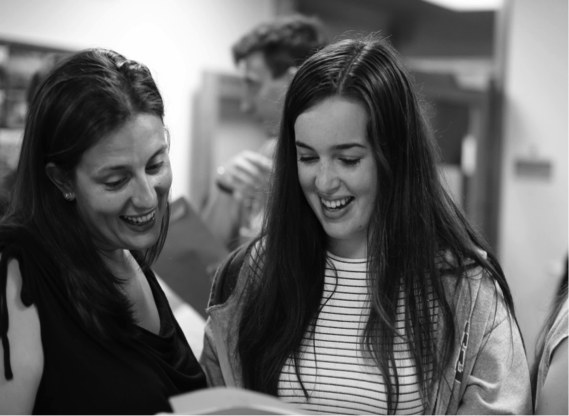 Every year we use the Yellis test to set targets for our students and every year we work out who did best as measured against their original targets. Kathryn Wassell beat her targets by 1.82 grades on average achieving 5A*s, 1A, 2Bs and 2Cs. Jonathan hunt beat his by an average of 1.72 grades achieving 2A*s, 7As and 1C.
Headlines
| | |
| --- | --- |
| 5A*/C | 89.7 |
| 5A*/C EM | 77.8 |
| EBACC | 60.3 |
| 5A*/A | 37.1 |
| Boys 5A*/C EM | 73.3 |
| Girls 5A*/C EM | 82.0 |
| Top 40% | 76.0 |
(This refers to those students in the top 40% of the ability range nationally and measures what percentage of them achieved 5A*/A. The national figure is about 40%)
| | 2009 | 2010 | 2011 | 2012 | 2013 | 2014 | 2015 | 2016 |
| --- | --- | --- | --- | --- | --- | --- | --- | --- |
| 5A*/C | 84 | 86 | 86 | 96 | 92 | 93 | 91 | 90 |
| 5A*/C EM | 73 | 80 | 81 | 91 | 89 | 80 | 83 | 78 |
| EBACC | | 43 | 47 | 57 | 55 | 58 | 59 | 60 |
| 5A*/A | 29 | 31 | 34 | 41 | 37 | 39 | 42 | 37 |
| Boys 5A*/C EM | 60 | 74 | 78 | 89 | 87 | 77 | 81 | 73 |
| Girls 5A*/C EM | 79 | 88 | 84 | 94 | 91 | 82 | 85 | 82 |
| Top 40% | 52 | 56 | 64 | 77 | 69 | 71 | 78 | 76 |
| Pupil Premium | | | 57 | 74 | 87 | 67 | 56 | 44 |
| Prior attainment (Average fine points score at KS2) | 29.0 | 29.2 | 29.4 | 29.5 | 29.3 | 29.2 | 28.8 | 28.7 |
| Value Added | 1008.2 | 1011.5 | 1008.1 | 1017.5 | 1018.9 | 1041.4 | 1044.9 | |